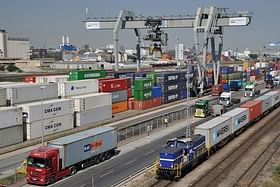 Prime Minister Narendra Modi and his Nepalese counterpart Pushpakamal Dahal 'Prachanda' will virtually inaugurate Uttar Pradesh's first land port along the India-Nepal border today.
Spread over 115 acres, the Rupaidiha land port in Bahraich district of Uttar Pradesh has been developed with a budget of Rs 206 crore to promote cross-border trade with Nepal.
The Rupaidiha border is a significant trade route, with annual trade worth Rs 8,500 crore between India and Nepal. Exports account for 95 per cent of the trade value, making the facility's development an important move.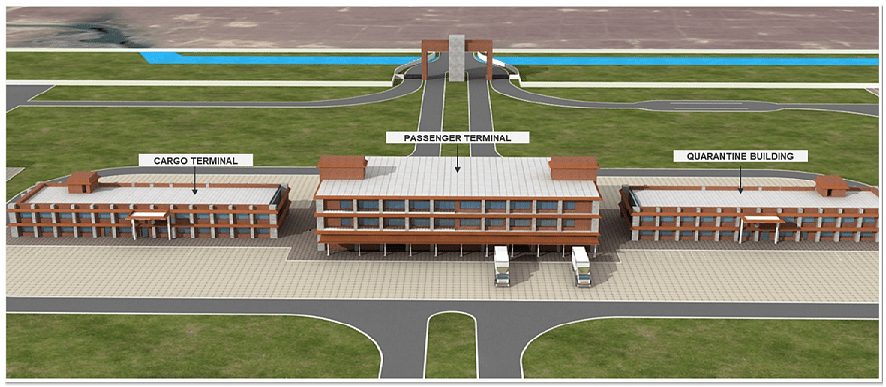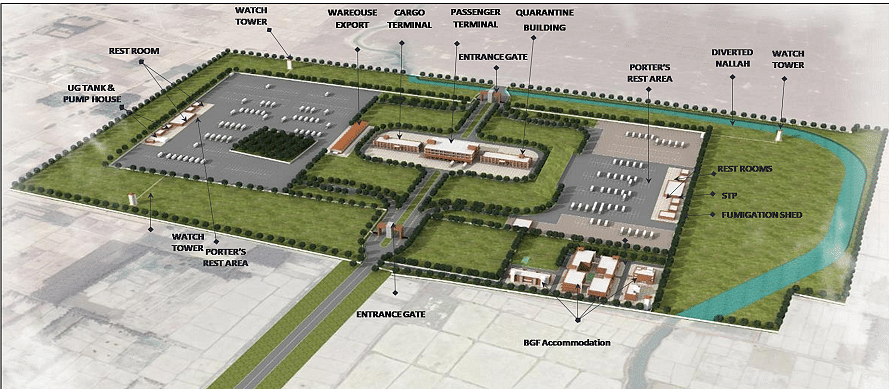 The volume of trade is expected to go up significantly as it is estimated that the number of trucks passing through the land port will increase to at least 300 daily from the current 200.
Land Port
Owing to its central geographical location, India shares over 15,000 km long international land border with seven countries in South Asia, namely Afghanistan, Bangladesh, Bhutan, China, Myanmar, Nepal and Pakistan.
There are several designated entry and exit points for cross-border movement of persons, goods and vehicles. For several years, inadequate infrastructure at designated border checkpoints has often been one of the major hindrances to regional trade, impeding the movement of both goods and passenger moving in and out of neighbouring countries.
Crossing the borders has been a costly affair — the borders have been a barrier to freedom of movement of trade and transportation.
It was in 2012, when India opted for a reform by setting up the Land Ports Authority of India (LPAI) as a statutory body under the Ministry of Home Affairs (MHA) under the Land Ports Authority of India Act, 2010.
The concept of land port as officially acknowledged in India is: 'Land port' means an area on the international borders of India including portions of national, State highways and other roads, notified as land Customs station or immigration check-post under the Customs Act, 1962 (52 of 1962) or the Foreigners' Act, 1946 (31 of 1946), and includes railways, with facilities for clearance and transport of passengers and goods across the borders of India.
Put simply, a land port  is a "one-stop shop", housing various facilities, including customs, immigration, border security and provide complete state-of-the art infrastructure facilities such as warehouses, examination sheds, weighbridges etc. for cross border movement of passengers and goods at designated locations along India's international border.
The first land port developed and operationalised in 2012 by LPAI was at Attari, Punjab, on a traditional route between India and Pakistan.
Four International Borders
There are currently 10 land Ports operational along land borders with Pakistan, Nepal, Bangladesh and Myanmar.
These are Attari and Dera Baba Nanak in Punjab — handing India's trade with Pakistan; Raxaul and Jogbani in Bihar — handling India's trade with Nepal; and Moreh in Manipur — handling India's trade with Myanmar.
Inaugurated in 2019, the land Port at Dera Baba Nanak is intended to facilitate Indian pilgrims visit the Gurudwara Kartarpur Sahib in Pakistan.
There are five land port along Indo-Bangladesh Border – Agartala and Srimantapur in Tripura, Dawki in Meghalaya, Petrapole in West Bengal and Sutarkandi in Assam.
The largest land Port in South Asia, Land port Petrapole is located at a distance of about 80 kms from Kolkata and handles nearly 30 percent of land-based trade between India and Bangladesh. Operational since February 2016, the land port has been witnessing an increasing number of passenger movement with an average of 22 lakh people crossing the post on either side annually.
Several new Ports are coming up to further improve the cross-border trade.
These include Banbasa in Uttarakhand, Sonauli in Uttar Pradesh and Bhithamore in Bihar on the India-Nepal border; Sabroom in Tripura, Kawrpuichhuah in Mizoram and Fulbari in West Bengal along the international border between India and Bangladesh.
Boosting Trade
Since the inception of the first port in Attari in 2012, LPAI has facilitated cross-border trade worth more than Rs 5 lakh crore across all its operational ports.
In the financial year (FY) 2021-22, total bilateral trade of Rs. 77,527.99 Crore took place via land ports which is 59 per cent more than Rs 48,682.76 crore trade recorded during FY 2020-21.
These land ports have also played an instrumental role in creating a truly seamless passenger experience by facilitating cross-border passenger movement of over 1.5 crore people.
In the financial year 2021-22 the passenger movement through land ports increased by more than 62 per cent over the last financial year. A total of 401,536 passengers moved through the land ports in FY 2021-22 as compared to 246,688 passenger movement in FY 2020-21.
The land ports in India have proven to be instrumental in channelising informal trade to formal trade and is a boon  for regional economic integration.