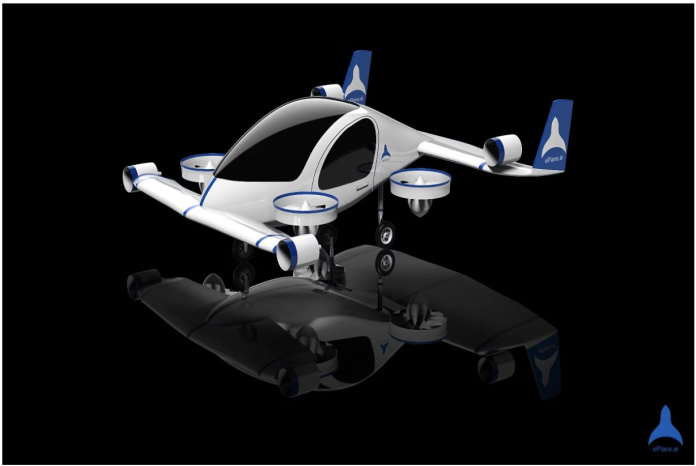 Hyundai Motor Group, the world's third-biggest automaker by sales, plans to build a manufacturing facility in the United States to make flying electric taxis for commuters, the South Korean auto group said on Wednesday.
Supernal, Hyundai Motor Group's Advanced Air Mobility (AAM) company, is developing an Advanced Electric Vertical Take off and Landing (eVTOL) aircraft.
As the acronym suggests, an electric vertical take-off and landing aircraft is one that uses electric power to hover, take off, and land vertically.
As part of this ongoing efforts, Supernal is set to reveal its latest eVTOL vehicle concept at global tech show Consumer Electronics Show (CES) in January 2024 in Las Vegas, Supernal Chief Executive Officer Shin Jaiwon said in an interview with Bloomberg News in Singapore.
Shin said the eVTOL taxi would be capable of flying at 120 miles an hour (193 kph) and have capacity for a pilot and four passengers. The company is targeting December 2024 for a test flight, with ambitions to start commercial service four years later.
"Considering all the battery technology and all the infrastructure and regulation to come along, it's going to take some time," he said.
Batteries are the biggest technical challenge for electric air mobility, accounting for up to 40 per cent of an eVTOL craft's weight. "That's really the killer," Shin said.
Hyundai Motor, Kia Corp and Hyundai Mobis, have together invested 1.2 trillion won ($915.70 million) in Washington-based Supernal since its establishment in 2021, according to regulatory filings.
The company last month announced a strategic partnership with Korean Air to help accelerate the design of an eVTOL vehicle and the development of the AAM ecosystem in Korea.
Supernal is working to submit an application to the US Federal Aviation Administration (FAA) in the coming months to get the eVTOL certified which will enable it to start the flight testing next year.
Supernal joins an increasingly crowded field of companies trying to get eVTOL vehicles certified. EHang Holdings Ltd. is a step ahead after receiving a certificate to begin trial aerial operations in China, while California-based Joby Aviation Inc., with backers including Delta Air Lines Inc. and Toyota Motor Corp., also has approval from the FAA to test its flying taxis.
Racing to catch up, Supernal opened a new engineering headquarters in Irvine, California, in July and a new R&D facility in Fremont two months later. Its workforce has doubled from last year to nearly 600, with many coming from Boeing, Lockheed Martin and Tesla according to Shin.
Back home, The ePlane Company – incubated by IIT Madras – has become the first Indian company to receive the Design Organisation Approval (DOA) from the Directorate General of Civil Aviation (DGCA) for its eVTOL vehicle.
The company, in February 2023, showcased a prototype of the Electric Vertical Takeoff and Landing vehicle at the annual Aero India show in Bengaluru.
Founded in 2017 and launched in 2019, the ePlane Company is the brainchild of aerospace engineering professor Satya Chakravarthy and his student Pranjal Mehta.
The company aspires to build the world's most compact flying taxi, called the e200, for passengers, as well as cargo transport that could help reduce congestion on the roads and emissions from ground transport and lower the risk of road accidents.
The DOA is a crucial first step in the aircraft certification process, and it paves the way for the ePlane to begin commercial production of its e200 eVTOL aircraft.