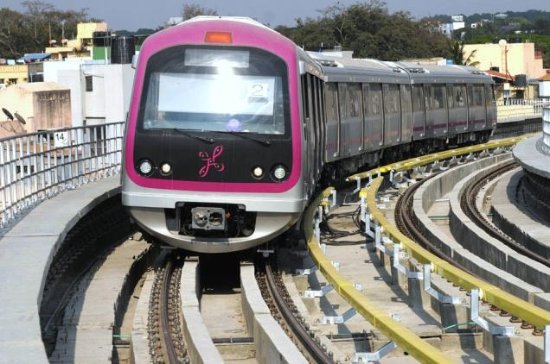 The Asian Development Bank (ADB) has announced on Monday (Dec 7) that it has approved a $500 million loan to construct new metro rail lines in Bengaluru, India.
The loan approval by ADB will be a major funding boosting for the crucial infrastructure project.
With ADB funding coming through, the Union government is expected to approve the project. Chief Minister B.S. Yediyurappa had written to the Union government seeking early approval for the project, first in June and again in September this year.
The overall 56 km metro line, called as "ORR-Airport Metro", will connects Central Silk Board Junction to Kempegowda International Airport, Bengaluru Terminals via KR Puram and Hebbal. The ORR-Airport Metro is estimated to cost of Rs. 14,844 Crores and will eventually serve 16 lakhs commuters daily.
The ORR-Airport Metro project will comprise of two new metro lines (Phase 2-A and Phase 2-B), mostly elevated, with a total length of 56 km along Outer Ring Road (ORR) and National Highway 44 between Central Silk Board and Kempegowda International Airport. 30 metro stations which will include multimodal facilities, such as bus bays, taxi stand, motorcycle pools, and pedestrian walkways and bridges will be build under the project.
"Bengaluru is the capital city of the state of Karnataka. The city is a leading center of information technology and high-technology industries such as robotics, biotechnology, and electronics. Bengaluru city has attracted people from other areas seeking employment and its population is estimated to reach over 16 million by 2030. The Bengaluru Metro Rail Project will establish two new metro rail corridors to augment an efficient and safe transportation system." a press release by ADB said.
"This will enhance the economy, improve the urban environment, and make the city more livable. The project supports urban transformation of Bengaluru city through a multidimensional approach of urban public transport and urban development. The new metro lines will ease daily travel of commuters and decongest traffic across the city, contributing to overall productivity," said ADB Senior Transport Specialist for South Asia Kaoru Kasahara.
ORR is among the densest corridors in the IT capital of India . It is dotted with major IT Parks that houses major companies such as Intel, AOL, Cisco and more present. According to a report by international property consultants Cushman & Wakefield IN 2017, the ORR submarket alone accounted for a whopping 54 per cent of the 12.7 million square feet net absorption of office space during the year 2017, distantly followed by the peripheral east submarket comprising of Whitefield.
In addition to the preponderance of tech giants , major residential complexes and apartments have also sprung up. This consequently makes it the city's most congested road. ORR also acts as a link road connecting traffic between the Kempegowda International Airport (KIA) and the major IT hubs at Electronics City and Whitefield.
The tenders for the civil works of the 56 km metro viaduct and 30 stations have already been called in five packages.
The entire 19km elevated stretch, also called Phase 2-A, will comprise of 13 stations- Central Silk Board , HSR layout, Agara, Ibbalur, Bellandur, Kadubeesanahalli, Kodibeesanahalli, Marathahalli, ISRO, Doddanekundi, DRDO sports complex, Saraswathi Nagar and K R Puram
For Phase 2A, Mumbai-based Afcons Infrastructure & Shankaranarayana Constructions had emerged as the lowest bidders for its construction in October. Contracts for that have not yet been officially awarded
Mumbai-based Afcons Infrastructure Limited emerged the lowest bidder with Rs 785 crore for the first package — 9.8km elevated section with six stations (Central Silk Board Junction, HSR Layout, Agara Junction, Iblur Junction, Bellandur, Kadubeesanahalli and construction of a 2.8m flyover at Central Silk Board). Bengaluru-based Shankaranarayana Constructions Pvt Ltd was the lowest bidder with Rs 623 crore for the second package — 9.7km elevated section with seven stations (Kodibisanahalli, Marathahalli, ISRO Layout, Doddanekkundi, DRDO Sports Complex, Saraswathi Nagar (Mahadevapura) and KR Puram and a 2km link line to Byappanahalli depot).
Phase -2B that will cover remaining 37 Km stretch from KR Puram to International Airport in Bangalore City. Bids for construction of the 37 km Airport ORR -Airport Metro line were invited in July this year and the last date for submission was has been extended twice due to the pandemic related disruptions. The current submission deadline is December 22.
Almost two-thirds of the 94 acres of the land required for the ORR-Airport Metro has been acquired and handed over to BMRCL. The balance land is mostly for the metro depot near the Trumpet Junction. The shifting of the utilities, namely electricity, water, streetlights, gas and telecom is underway by the concerned agencies.
The ORR-Airport Metro is being established as per the Metro Policy 2017 with equal equity financing model by the Government of India and the State Government. The approval of the Government of India is expected by December 2020.