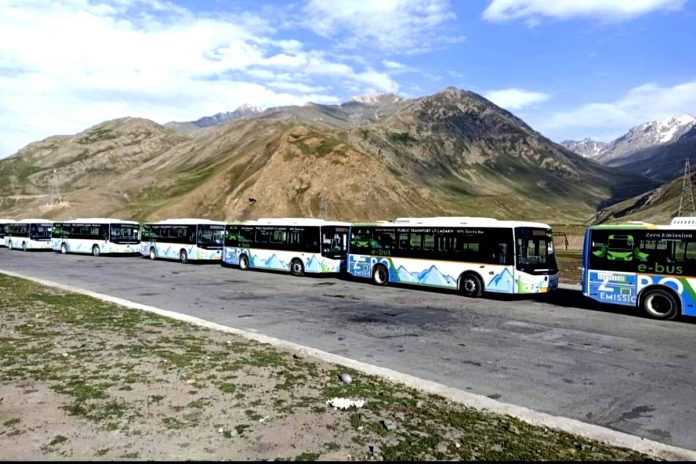 A tender for about 3,000 electric buses is slated to be floated next week as part of the 'PM-eBus Sewa' scheme, according to the Ministry of Housing and Urban Affairs (MoHUA).
Each bus will have a GPS, and vehicular movement will be integrated with a traffic management system.
The proposed e-bus service is an intervention within the larger urban mobility policy of the centre, MoHUA secretary Manoj Joshi said at a press conference.
The 'PM-eBus Sewa' scheme, under which 10,000 electric buses will be provided to 169 cities under a public-private partnership (PPP) model, was approved by the Union Cabinet in August.
So far as the 10,000 e-buses are concerned, "We got a Cabinet approval," and tenders are going to be "issued shortly," Union Minister for Housing and Urban Affairs Hardeep Singh Puri said, adding that states have to be a partner in this scheme.
MoHUA secretary further said one tender is to be issued next week, for which the RFP (request for proposal) has been finalised, and "we are seeking internal approvals."
"Next week we will be able to float tender for about 3,000 buses," he said.
A proposal for another 2,000 buses has come up from the Uttar Pradesh government, and they are working on a slightly different model.
"After the Cabinet approval, we had given a month's time to states to send us proposals. Other states are working on their proposal," Joshi said.
The MoHUA secretary said urban mobility policy is a broad framework, and "we are coming out with a specific intervention under that policy" and the e-bus service is also an intervention within that policy.
It's a partnership between the centre and states, he told reporters.
The Housing and Urban Affairs Minister said that the government's approach towards urban transport issues has witnessed a significant change after 2014.
The rapid urbanisation has been embraced as an opportunity rather than a challenge during this period, he said.
The Minister was speaking at the inaugural session of the Sixteenth Urban Mobility India (UMI) Conference cum Expo 2023 in the national capital.
During the event, Puri shared his thoughts on the major transformation that the country has witnessed in the field of rail-based rapid transit systems.