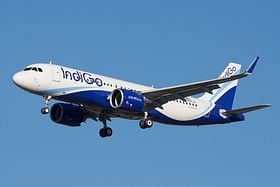 In a major development, French aerospace manufacturer Airbus has inked an agreement with Hindustan Aeronautics Limited (HAL) for the establishment of maintenance, repair, and overhaul (MRO) facilities dedicated to the best selling single-aisle Airbus A320 family aircraft.
As per the arrangement, Airbus will supply the A320 family tool package and extend specialised consulting services to HAL for the establishment of an MRO.
Additionally, Airbus will grant HAL access to AirbusWorld, a digital platform providing support, technical data, and training solutions.
The Bengaluru-headquartered company's Nashik division has capabilities in civil MRO, which include three Directorate General of Civil Aviation (DGCA)-approved hangars and skilled manpower from their defence activities.
With orders for almost 1,000 planes, worth $120 billion (book value), placed by Air India and IndiGo so far this year alone, the Narendra Modi government has asked major aircraft manufacturers like Airbus and Boeing, as well as engine-makers to enhance sourcing from India, establish MRO facilities in the country, and ultimately establish a final assembly line domestically.
The Airbus-HAL agreement is a step in this direction.
"HAL has a vision to establish an integrated MRO hub in the country and provide airlines with an effective MRO solution. This step by HAL Nashik is also aligned to civil-military convergence and the Make-in-India mission of the Government of India," said Saket Chaturvedi, CEO (MiG Complex), HAL.
"An indigenous MRO infrastructure will not only help airlines streamline their aircraft operations, but also support the government's aim of making India a global aviation hub," said Rémi Maillard, President and Managing Director, Airbus India and South Asia.