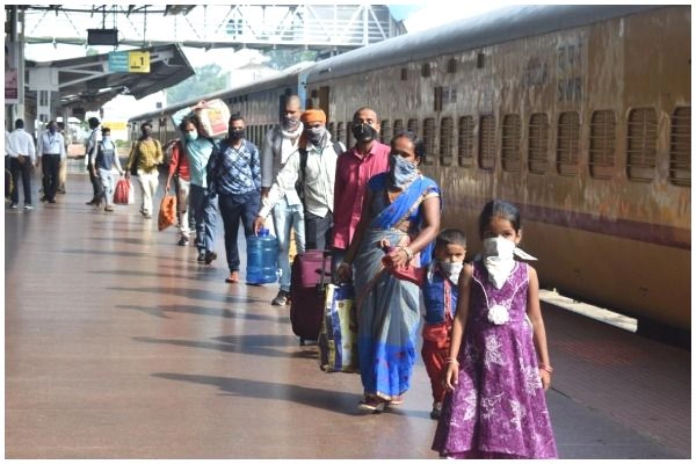 In the wake of reported deaths, diversion and inordinate delays in a few Shramik trains in the recent past, Indian Railways has made it clear that only a small fraction of the special service was diverted between 20 May and 24 May because of route congestion.
The hardship caused by diversion and delay to hapless migrants in a few trains has put the state-run transporter in an awkward situation despite running nearly 4,000 Shramik Specials to evacuate lakhs of stranded passengers.
Only 71 trains were diverted between 20 and 24 May, which is just 1.8 per cent of the total trains run during the time, Chairman, Railway Board (CRB), VK Yadav, said in a presser here.
The Railways had come under criticism over the delay and diversion of Shramik Trains in the last week amid reports of a Gorakhpur-bound Shramik Special from Maharashtra ending up in Rourkela.
Giving the operational details of the running of Shramik trains, Yadav said barring a few, most trains have reached on time.
While the demand for 450 Shramik trains exists as of now, 3,840 Shramik Specials have run, carrying a total 52 lakh passengers till 28 May.
"Railways is ready to provide as many Shramik Specials as per the state's requirement and we have accommodated almost all requests received from the sending states," he said.
Clarifying further, CRB said neither any Shramik train before 20 May nor after 24 May was diverted.
Shramik Specials were launched on 1 May to facilitate stranded migrant workers to return home during the lockdown.
Yadav said the diversion happened because the particular routes were heavily congested.
According to railway data, 51 trains heading towards Bihar were diverted, while 16 for Uttar Pradesh, two for Jharkhand and one each for Assam and Manipur were also diverted to avoid congested routes.
These diverted trains were coming from Maharashtra, Gujarat, Karnataka and Rajasthan.
Yadav said since 80 per cent of these trains were heading for Uttar Pradesh and Bihar, it resulted in congestion of paths and railways had to divert these trains.
Majority of Shramik trains are heading towards Gorakhpur, Jaunpur, Purnia and other cities in UP and Bihar.
Asked about the data of deaths onboard Shramik Specials, he said these are tackled by respective state governments.
On the issue of food and water shortage, CRB said catering is done by contractors and because of the corona scare, their staff are reluctant to do the job.
So our railway employees came forward to do it.
With the Covid-19 pandemic wreaking havoc, Railways, in order to protect vulnerable persons from the infection, has appealed for caution while travelling.
Railways has requested persons with co-morbidities like hypertension, diabetes, cardio-vascular diseases, cancer, and immune deficiency conditions to avoid train travel.
Pregnant women, children below the age of 10 and persons above 65 may avoid travel by rail, except when essential, the appeal said.
Arun Kumar Das is a senior journalist covering railways. He can be contacted at [email protected].