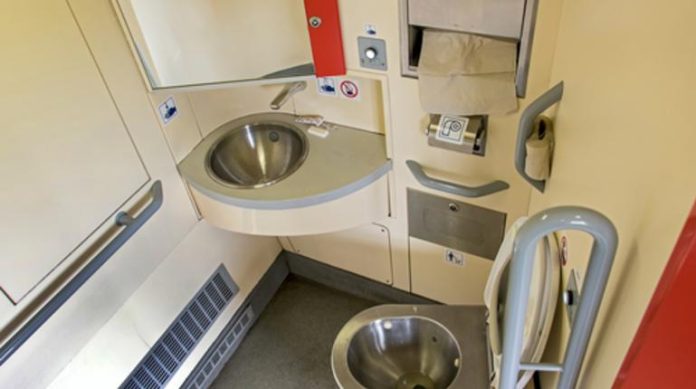 Focusing on upgradation of passenger amenities, Railways is planning to equip the entire fleet of AC coaches with aircraft-style bio-vacuum toilets at an estimated cost of Rs 1500 cr.
After installing bio-toilets in over 60,000 mainline coaches, railways has taken a further step of providing bio-vacuum systems in all LHB coaches.
The retrofitment of all coaches of premier trains including Rajdhani, Shatabdi and Duronto with bio-vacuum system in toilets are to be carried out as part of Make-in-India initiative, said a senior railway official.
Taking a lead in the bio-vacuum toilet installation, Northern zone is in the process of equipping 714 AC coaches of premium service with the system.
While 600 coaches are already being equipped with the bio-vacuum system during the lockdown, retrofitment for the rest coaches are underway, it is learnt.
The aircraft-style bio-vacuum toilets are based on sustainable cleanliness as the vacuum evacuation system helps in the elimination of the foul smell and also saves a considerable amount of water in regular consumption.
"There were complaints of bad odour due to insufficient flushing in bio-toilets. However, the vacuum-assisted flushing is an improvement and water consumption is also less than the bio-toilet system," said the official.
As part of providing clean and hygienic train services for passengers, the retrofitment of aircraft-style bio-vacuum toilets is a priority for the Indian Railways network.
Kalka-Delhi Shatabdi Express was the first to have bio-vacuum toilets in all coaches.
Since the vacuum system has effectively addressed the foul smell and flushing issues of bio-toilets it has been decided to instal the system in all LHB coaches, said the official.
Scientifically, in the bio-vacuum toilet, human waste is discharged into a biodegradable tank system and converted into organic matter through composting, which reduces the bad odour as well as the consumption of water. This step enhances the passenger experience during long hours of travel.
According to railways, it cost about Rs 13 lakh for installing a bio-vacuum system for a coach with four toilets.
In all, bio-vacuum toilets, stainless steel dustbins have been provided for the safe disposal of napkins, bottles, garbage etc. Steam taps are also provided in these toilets which sense the difference in the steam and liquid draining out from the pipeline, and the automatic valves ensure that the bio tank does not overflow. Apart from this, a trolley mounted mobile sewage evacuation machine is being utilized for the disposal of the bio toilet waste from the train coaches.
Railways is in the process of finalising the Rs 1500 cr tender for the bio-vacuum toilet for its entire coach fleet.