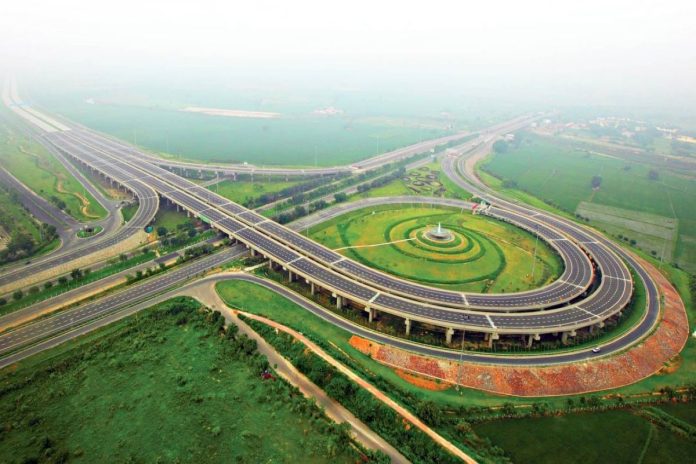 Snapshot
The Delhi-Dausa stretch would improve connectivity to Jaipur and reduce travel time from Delhi to Jaipur by around an hour because people will be able to drive at a maximum speed of 120 kmph on the access-controlled highway
Prime Minister Narendra Modi will soon open the Gurugram-Dausa (Rajasthan) portion of the Delhi-Mumbai Expressway, according to Rao Inderjit Singh, a Gurugram MP and Cabinet minister.
The work on the Gurugram-Dausa section stretch is nearly finished.
Singh, who met with Union Transport Minister Nitin Gadkari in Delhi and said the minister approved a key proposal to develop an elevated road between Hero Honda Chowk and Umang Bhardwaj Chowk.
"I was informed in the meeting by the transport minister that work on this section is almost complete and the ministry has sought time from the prime minister to inaugurate this project, which is expected to happen soon," said Singh, reports Hindustan Times.
With the completion of the Gurugram-Dausa portion of the Delhi-Mumbai expressway (DME), the Delhi-Jaipur highway would be significantly relieved. It would also help to relieve traffic congestion in Gurugram.
"The Delhi-Dausa stretch would improve connectivity to Jaipur and reduce travel time from Delhi to Jaipur by around an hour because people will be able to drive at a maximum speed of 120 kmph on the access-controlled highway," said a senior transport official.
The 1,380-km Delhi-Mumbai Expressway — passing through Delhi, Haryana, Rajasthan, Madhya Pradesh and Gujarat — aims to bring down travel time between the two cities to barely 12 hours, from the current 24 hours.
This highway is being developed with a 21-metre-wide median. It can be decreased if necessary to broaden the road. Two iconic eight-lane tunnels will be a part of this expressway.
The Delhi-Mumbai Expressway is being built as an eight-lane greenfield highway with access control. It can be extended to 12 lanes by adding four more lanes.
About two million trees and shrubs are to be planted along the highway and it is the first Asian project that will have animal overpasses to ensure that there is undisturbed wildlife movement.
Union minister for road and transport Nitin Gadkari also stated earlier that Delhi-Mumbai Expressway would fetch toll revenue of up to Rs 1,500 crore every month.
One other unique aspect of the Delhi Mumbai Expressway is the setting up of 94-way side amenities (WSA) to improve user convenience and safety along the corridor.
Wayside amenities will house petrol pumps, motels, rest areas, restaurants and shops. These Wayside amenities will also have helipads for increasing connectivity and evacuating people in case of medical emergencies.
The expressway also features spur connectivity to DND in Delhi, Jewar Airport in Greater Noida and Jawaharlal Nehru Port near Mumbai.
The entire expressway including the three-spur connectivity is expected to be completed by June 2024.
The eight-lane greenfield highway between Delhi and Mumbai began construction in 2018, with the foundation stone laid on March 9, 2019.
DME would improve access to economic hubs such as Jaipur, Kishangarh, Ajmer, Kota, Chittorgarh, Udaipur, Bhopal, Ujjain, Indore, Ahmedabad, Vadodara, and Surat.