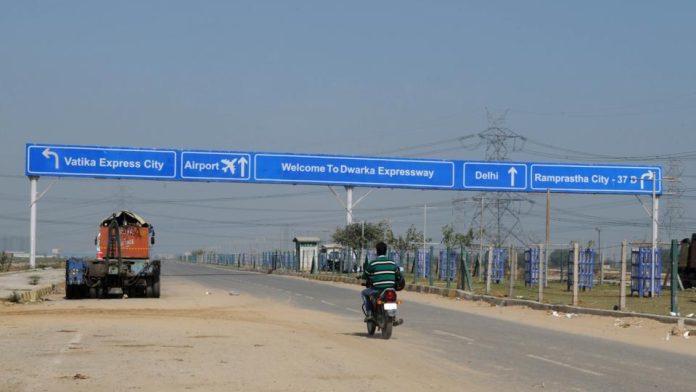 The much-delayed Delhi-Gurugram-Dwarka expressway is expected to be completed within one year from now, an official said on Wednesday.
According to a senior official of the National Highway Authority of India (NHAI), 30 per cent of this expressway has already been completed. The contracts pertaining to the construction of the project have awarded to four construction companies with a strict timeline.
"We have divided into four packages this 16 lanes expressway starting from the Delhi Gurugram expressway at Shiv Murti and going all the way to Kherki Dhaula toll plaza via Dwarka Sector 21, Gurugram border and Basai," the NHAI official said.
The first package starts from Shiv Murti to Dwarka Sector 21 covering 5.3 km, the second package is 4.2 km from Dwarka Sector 21 to the Gurugram border, the third package is from the Gurugram border to Basai flyover having distance of 10.2 km and the fourth package from Basai to Kherkidhaula on National Highway (NH) 8.
An 18.9 km stretch of the expressway falls under Gurugram, while the remaining 9.5 km falls under the territories of Delhi.
Following over 10 years of delay, the stone foundation of the expressway was laid on March 8, 2019, by Road Transport Minister Nitin Gadkari.
"The project of the Dwarka expressway has been delayed due to non-acquisition of land in Delhi. The total cost of the project is Rs 7,500 crore and provides signal-free travelling experience to commuters who can reach from one point to another in 20 to 25 minutes. It will remove the traffic burden of existing Delhi-Gurugram expressway," the official said.
The initial concept of the 6-lane 18 km long expressway connecting NH 8 at Kherkidhaula with Delhi's suburb of Dwarka surfaced in 2007 and its construction started in 2009 with a completion time of 36 months.
However, the project was delayed due to land acquisition issues in Gurugram faced by the Haryana Shahari Vikash Pradhikaran, and in Delhi faced by the Sheila Dixit and Arvind Kejriwal governments.