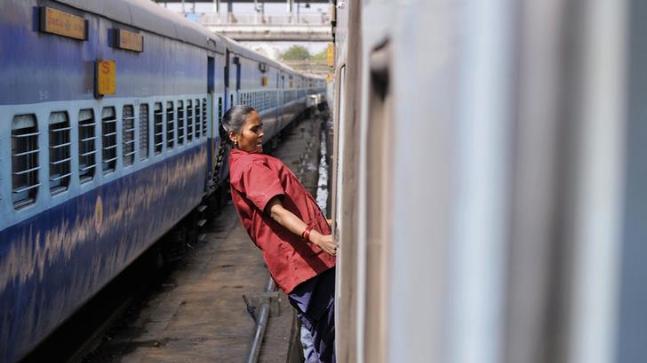 Breaking the glass ceiling, more than 1250 women opted to become train drivers in 2019-20, hitherto a traditionally male domain in Indian Railways.
While 50,098 male candidates qualified for Group C posts, 2170 lady candidates successfully competed in this category to become an Assistant Loco Pilot (ALP), technician and Junior Engineer (JE) among others till January 2020.
The state-run transporter, which is the employer for more than 13 lakh employees, is attracting more and more women in the recent past for various posts in the Group C category for which the recruitment process is underway.
During 2019-20, 1280 lady candidates have been appointed to the post of Assistant Loco Pilot against a total of over 27000. ALP was until recently a male-dominated unit.
According to railways data, Overall 3 to 4 per cent lady candidates are being appointed in Group C category posts.
In Level-1 or Group D category lady candidates comprise between 2 to 3 per cent of total appointments. The states from which the lady candidates were appointed as ALP are Andhra Pradesh, Bihar, Kerala, Maharashtra, Uttar Pradesh, and West Bengal.
The maximum number of female candidates from Uttar Pradesh (216) qualified for ALP followed by Kerala (145), Andhra Pradesh (131), Bihar (122), Maharashtra (117), West Bengal (110).
In Level-1 or Group D posts which include track maintainer, khalasi and office messenger among others also witnessed lady candidates coming from southern states and also from Delhi, Haryana, and Bihar. The percentage is less in the North-Eastern states.
There is a total of 1144 female candidates selected against 55,297 male candidates in the Group D category in the current financial year.
Currently, some of the stations which are completely manned by ladies include Vidya Nagar in Hyderabad Division, Begumpet of Secunderabad Division, New Guntur and Chandragiri stations of Guntur Division.
Like air hostess, some premier trains like Tejas and Gatiman Express have train hostess onboard to serve passengers.