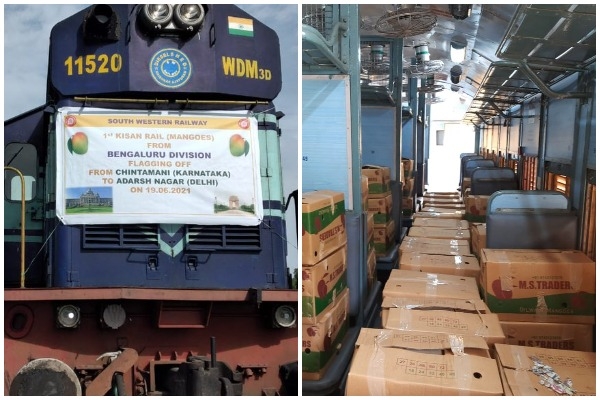 Providing a broader market to farmers, Kisan Rail has completed over 4,000 trips across the country transporting more than 2 MT of perishable and agri-products including milk, meat and fish since its launch in August last year.
Until 30 July 2021, as many as 3.38 lakh tonnes of perishables farm produce were loaded in over 1,000 trips of Kisan Rail in more than 70 routes all over the country, benefitting a large number of farmers.
Kisan Rail service has helped many farmers across the country increase income, motivating sustenance of livelihood.
As per the announcement made in the Union Budget 2020-21, the first Kisan Rail train was flagged off on 7 August 2020 between Devlali (Maharashtra) and Danapur (Bihar).
According to Railways data, the Kisan Rail service has undertaken 1,040 trips in 72 routes carrying 3.38 lakh tonnes of agri-products.
Kisan Rail carries onion, potato, mango, oranges, carrots, pomegranate, capsicums, pineapple, custard, apple, chikoo and flowers. The primary objective of running Kisan Rail trains is to increase the income in the farm sector by connecting production centres to markets and consumption centres.
Indian Railways has been actively engaging with various stakeholders — including the Ministry of Agriculture, state governments, and local bodies — to plan the rollout of Kisan Rail services.
These Kisan Rail trains are run on time-tabled paths, and their punctuality is strictly monitored to avoid any en-route detentions and delays.
The service was availed of by small farmers from Latur and Osmanabad regions of Maharashtra, who loaded flowers in Kisan Rail from Kurduwadi station to Adarsh Nagar in Delhi for the first time giving access to new markets, yielding an increase in income.
Small farmers holding one/two acres of land are excited about this access to new markets with quick and cheaper transportation of the most highly perishable flowers through Kisan Rail.
Kisan Rail is enabling a seamless supply chain of perishable goods (fruits and vegetables) and essential commodities during this pandemic.