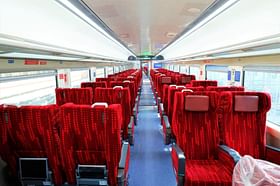 India's eighth Vande Bharat Express, indigenously built under Atmanirbhar Bharat initiative, was flagged off virtually by Prime Minister Narendra Modi amid a cheerful crowd.
The Secunderabad-Visakhapatnam Vande Bharat Express would cover 700 kms in a faster mode reducing the travel time from average 12 hrs to 8 hrs 30 minutes.
"It will connect two Telugu speaking states strengthening the connectivity between Andhra Pradesh and Telangana and also further economic, social and cultural bond, " said Railway Minister Aswhini Vaishnaw who was part of the inaugural launch.
The semi-high speed train is equipped with world-class features like better ride comfort, ergonomic reclining and Divyangjan friendly, Kavach-enabled safety, automatic doors with retractable footsteps.
From Monday the train will resume its commercial journey and passengers travelling from Hyderabad to Vijayawada fully reach their destinations in four hours and by far it will be the quickest mode of public transport available between the capitals of the two Telugu speaking states.
Though the train departs from Secunderabad, it would cover major cities such as Warangal, Khammam, Vijayawada and Rajahmundry before reaching destination Vishakahapatnam.
The Executive Chair car price is Rs 3,170 from Vizag to Secunderabad and Rs 1,825 for Vizag to Vijayawada while the AC Chair car is Rs 1,720 is for Vizag to Secunderabad and Rs 960 is for Vizag to Vijayawada.
"It is a dream comes trues" said A Naresh, co-pilot of the train, who has six years of experience. "I am thankful to the Railways for giving me opportunities to run this most sought after train," Naresh added.
N Prakash and A Naresh are pilots and co-pilots of the Secunderabad-Vishakkhapatnam Vande Bharat Express.
"I am also happy that I got the chance to be in the driver's cabin of this prestigious train", said Prakash, the main pilot of the train who has 28 years of experience.
Both the drivers would get down at Vijayawada and two others would join the duty from there.
There is a strict safety protocol for train drivers who have to take rest after certain hours of duty.
Generally after seven hours of duty, drivers change shifts. But for this train it is four hours for us, said Prakash.
Though there are four stoppages between Secunderabad and Vizag, the train stopped at 21 stations such as Cherlapally, Jangaon, Kazipet, Mahbubabad, Dornakal along the route. There were cheering crowds and felicitations throughout the route.