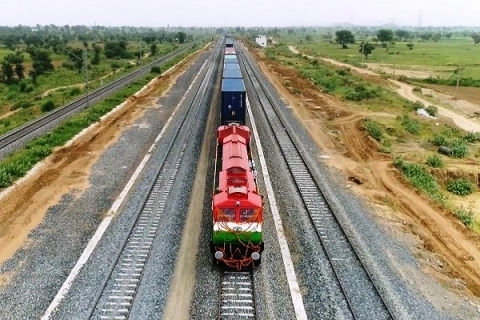 Despite Covid-19 pandemic, the goods loading in August is over 4 per cent higher than the last corresponding period as the Railways has undertaken a series of steps to boost freight operations.
The total freight loading up to 27 August was 81.33 million tonnes (MT) as against 77.97 MT for the same period last year, an increase of 4.3 per cent.
Since freight operations has a direct bearing on the economic situation, the public transporter has taken up the challenge on a mission mode with several key measures in tariff and mon-tariff fields.
Utilising the Covid-19 period as an opportunity, Indian Railways substantially increased the speed of freight trains as well.
In order to boost freight operations, Railways has offered a 5 per cent discount on loaded containers in addition to 25 per cent on empty containers from 3 August this year.
The transporter has also announced a discount for pond ash/moisturised ash in the open wagon — 40 per cent for power plants, and cement in this month.
Besides revising the classification of industrial salt for the chemical industry, stabling charges for private containers and automobile trains was waived off till 31 October 2020 for containers and automobiles from 3 August.
In a major step, all private sidings/good sheds/private freight terminals (PFT) opened up for parcel traffic for parcels from 18 August.
The other tariff rationalisation initiatives include withdrawal of Busy Season charge — 15 per cent for all sectors except coal, iron ore and containers from 1 October 2019.
Withdrawal of 5 per cent surcharge of two point/mini rakes for cement, iron and steel, foodgrains, fertilizers, from October 2019 was also offered to increase bulk loadings.
Railways has extended time-tabled parcel express till December end for parcels from 19 June 2020.
Another important decision was to reduce the application fee for Greenfield PFT from Rs 10 Lakh to Rs 20,000 and completely waive off the conversion of siding to Brownfield PFT for all from 24 August.
In a new approach, the Railways has set up Business Development Units at all divisions, zones and Board level to closely monitor the situation and suggest ways to increase business.
While opening up export traffic to Bangladesh for parcels, containers and automobiles, Kisan Rail was introduced from Devlali in Nashik to Danapur in Patna in August with multiple stoppages and multiple commodities.