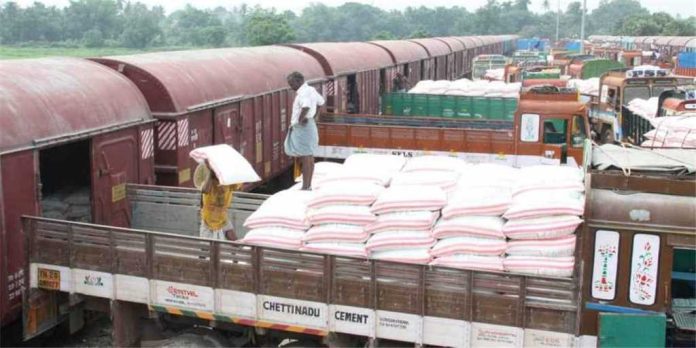 In what seems to be a rebound in economy, Indian Railways has made it possible to pull more goods traffic than last year's level inspite COVID-19 pandemic.
Amid the rising cases of coronavirus, the freight loading was 3.13 MT on July 27 which is higher than last year for the same period, a significant milestone in goods transportation in the rail sector.
Besides, the average speed of freight trains on 27 July 2020 was more than double as compared to last year for the corresponding period.
Railways achieved more freight loading compared with last year despite the challenges amid the Covid-19 pandemic crisis, Railway Board Chairman VK Yadav has said in a presser through video link on Tuesday.
Of the 1,039 rakes loaded, 76 carried grain, 67 fertilizer, 49 steel, 113 cement, 113 iron ore, 363 coal and the rest other items, he said.
It may be noted that the Prime Minister had emphasized upon achievement of long term and far reaching goals during the lockdown.
Accordingly, the Railways has completed nearly 200 infrastructure works in this period.
The average speed of Freight Trains on July 27, 2020 was 46.16 kmph which is more than double as compared to last year for the same date (22.52 kmph).
In the month of July the average speed of freight trains is 45.03 kmph which is around double as compared to last year for the same month (23.22 kmph).
The average speed of freight train doubled up from 23 km to 45 kmph and there is also reduction in retention period which means time for loading and unloading of goods from wagons also decreased resulting in improvement of turnaround of wagons, Yadav said.
According to railways, the average speed increase of goods trains was witnessed in almost all zones.
West Central Railway with the average speed of 54.23 kmph, Northeast Frontier Railway with the speed of 51 kmph, East Central Railway 50.24 kmph, East Coast Railway 41.78 kmph, South East Central Railway 42.83 kmph, South Eastern Railway 43.24 kmph and Western Railway with the speed of 44.4 kmph are the leading Railway Zones in the average speed of freight train in Indian Railways.
According to the plan, these improvements in freight movements will be institutionalized and incorporated in the upcoming zero-based Time Table. These steps will lead to significantly higher freight traffic and earnings for Railways and cost competitive logistics for the entire country.
During the period, railways carried out an uninterrupted supply of essential commodities including coal for power houses, petroleum products, fertilizers and food grains.
In fact, there is a record loading of food grains with 80 % more than last year – 20.75 MT as against 11.55 MT.
Railways also introduced time-tabled parcel services which paid rich dividends to the public transporter which carried a total 2.41 lakh tonnes cargo.
In order to make the freight movement very attractive, railways has recently made a number of concessions/ discounts for stakeholders.
Railways have operated 4,615 Shramik special trains and transported over 63 lakh stranded migrant workers to their native places since May 1.
It goes without saying that COVID-19 pandemic has been used by the Railways as an opportunity to improve all round efficiencies and performances.