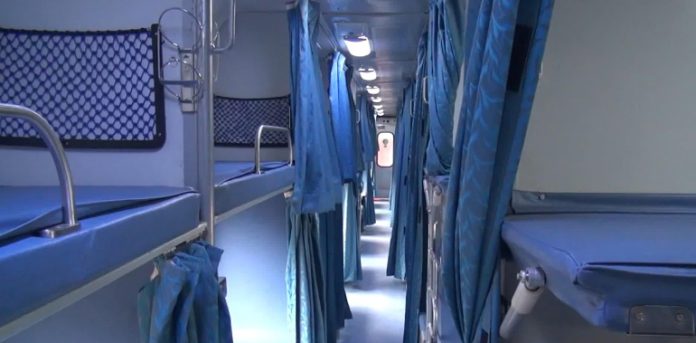 Two-tier non-AC Sleeper, a new class in the long-distance train, is likely to emerge out of the COVID-19 crisis as the Railways is mulling to discontinue the middle berth in some of the coaches that have been converted into isolation wards for the contagion.
Currently, 5000 conventional coaches are being converted into isolation beds out of which 2800 are three-tier non-AC Sleeper. Middle berths of these coaches are being taken out to make rooms for infected patients.
After the crisis is over, these coaches are to be restored with middle berth and also with proper disinfectant spray and other sanitization exercises for passenger service.
However, a proposal is gaining traction that instead of restoring the middle berth, the coach should be allowed to run with just upper and lower berth without the middle one.
This will not only reduce the restoration cost, but it would also save time to make the coach ready for operation.
If this happens then there will be a new class – two-tier non-AC Sleeper – in some Mail/Express trains, said a Railway Ministry official and added the fare will be also higher for the new Class.
However, the official clarified that a decision is yet to be taken on the issue as everybody is now seized with the matter related to the COVID-19 pandemic.
The two-tier system is prevalent in AC coaches as there are Third AC and Second AC Classes in all Mail/Express and premier trains.
Indian Railways which is on the forefront to safeguard the country from coronavirus is supplementing the healthcare efforts of the government in a big way by producing about 6 lakhs reusable face masks and more than 40,000 litres hand sanitiser.
In a bid to mitigate the pandemic, the freight operations are running round the clock to maintain essentials goods supplies.
Keeping its social service commitment, railways has distributed over 8.5 lakh cooked meals to needy people since March 28 with the active cooperation of IRCTC base kitchens in New Delhi, Bangalore, Hubli, Mumbai Central, Ahmedabad, Bhusaval, Howrah, Patna, Gaya, Ranchi, Katihar, Deen Dayal Upadhyaya Nagar, Balasore, Vijaywada, Khurda, Katpadi, Tiruchirapalli, Dhanbad, Guwahati, Samastipur, Prayagraj, Itarsi, Vishakhapatnam, Chengalpatu, Pune, Hajipur, Raipur and Tatanagar spread over various zones.
As of now, 5734 confirmed cases and 166 deaths have been reported. 473 persons have been cured/discharged after recovery.