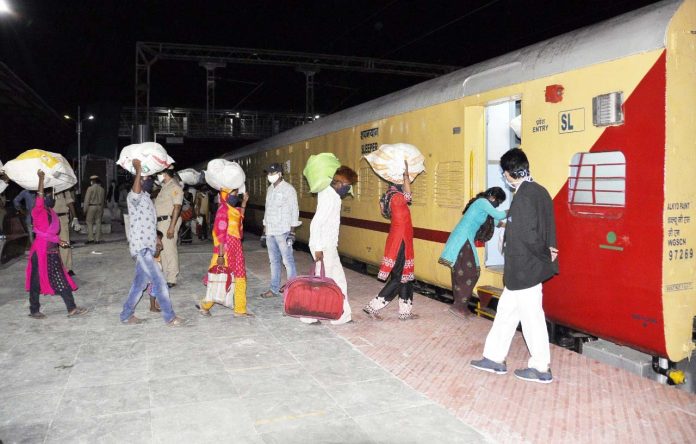 Emphasising on strengthening the security arrangement to prevent any untoward incident in Shramik Specials, the state-run transporter has allowed zonal railways to hire ex-servicemen, home guards and private security men for adequate deployment at rail premises.
In a fresh guidelines issued to all zones, Railways has sought close coordination with intelligence agencies to remain alert for avoiding any possible conflict among passengers in Shramik trains.
"Close interaction with intelligence agencies will be manitained to ascertain any possibility of a sectarian feuds or group conflict among passengers," the guidelines stated.
It further said "Intensive watch on the behaviour of the passenger will be kept and any trouble maker identified and separated from the groups. In the event of information about any such possibility, suitable precautions may be taken such as enhanced presence of security personnel at the origin, enroute and destinations."
In the event of increased hostility, State police may be informed to intervene as soon as possible," the guidelines said.
Besides enhanced presence of security personnel, railways has also spelt out sanitisation protocol in details to be followed in Shramik Special trains pressed into service for ferrying stranded passengers.
As of now, 67 Shramik Specials have been operational since launching of the service on May 1 and about 67,000 stranded passengers have availed the service so far. Leaving nothing to chance, the new guidelines has also sought self-propelled accident relief train and accident relief medical equipment to be kept ready for immediate movement in case of any mishaps on the track.
The four-page guidelines issued by the Principal Executive Director A Madhukar Reddy to all concerned authorities reiterate railways' resolve to run Shramik Specials smoothly.
The Railways also stated that sanitisation of trains has to be done both at the originating and the destination stations.
Liquid soap is to be made available and minimal staff accommodated on board the trains for cleaning toilets, it said.
Highlighting on the awareness campaign, it has advocated for posters to be prominently displayed conveying that COVID-19 is a highly contagious infection and all passengers are requested to maintain adequate distance from other passengers during the journey.
Wearing face masks at all times and frequent use of soap/sanitizer besides public announcement to be made continuously for the passengers at stations are part of the detailed protocol made by railways to fight the infection.