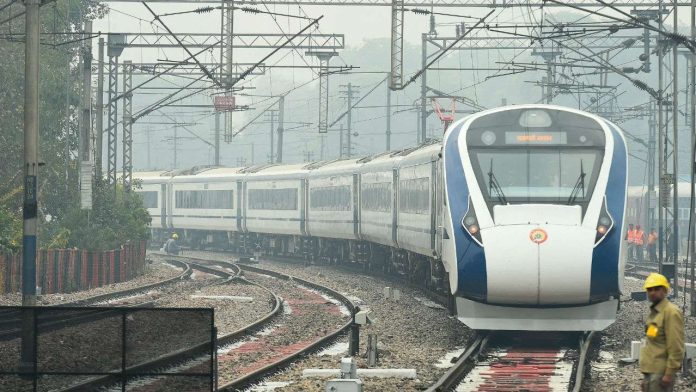 Reduction of maintenance period from 35 years to 15 years, more incentives for opting light weight aluminium coach and sufficient time to design the Sleeper coach for Vande Bharat trains are some of the demands raised by stakeholders in the recently held pre-bid meeting for manufacturing of 200 semi-high speed trainsets.
All leading rolling stock players including Titagarh, Siemen, Alstom, BHEL, Medha, Straddler among others have participated in the pre-bid meeting.
According to the Railways, there were hundreds of queries from possible bidders about the various clauses in the tender for manufacturing of 200 Vande Bharat trains with Sleeper facilities.
Till now the Railways has awarded contracts for manufacturing of 102 Vande Bharat trains with seating arrangements.
Earlier Vande Bharat train was with Chair Car and Executive Class facilities but the latest tender floated by the Railways was for new age Vande Bharat with Sleeper facilities.
While many participants stated the clause of 35 years maintenance was too long and sought it to be reduced to 15 years. Some also sought more time than 22 months prescribed for making a new design for Vande Bharat trainset with Sleeper facilities.
The Railways has given option of opting stainless steel or lightweight aluminium for manufacturing Vande Bharat coaches.
However, the Railways offer of Rs 6 lakh incentive for aluminium coach is being considered as too low and the stakeholders demand it to be raised to Rs 22 lakh per ton per train.
The Railways has floated tenders for manufacturing of 200 Vande Bharat with Sleeper facilities at Latur and Chennai. While the Integral Coach Factory at Chennai would be tasked to manufacture 120 Vande Bharat trains, production of 80 Vande Bharat trainsets would be assigned to Latur factory.
The Railways would give Rs 30 crore to Latur and Rs 75 crore to ICF for civil work required for the semi-high speed train manufacture.
The prospective bidders also wanted to know the roadmap of the developed facilities at Latur and Chennai after the completion of the contract.