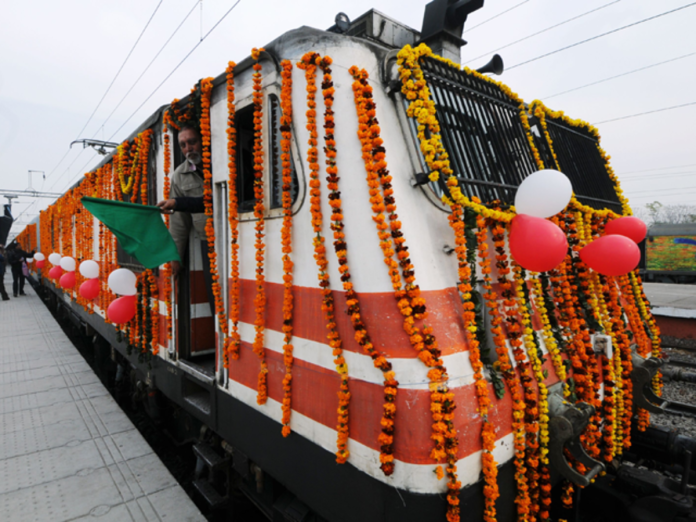 Speed is the mantra now as the Railways is going ahead with an action plan to run trains at maximum speed of 160 KMPH on main trunk routes across the country to significantly reduce travel time between two metro cities.
In a new paradigm shift, seven high density routes including Delhi-Guwahati, Delhi-Howrah and Delhi-Mumbai are going to be decongested enabling passenger-carrying trains to speed up upto 160 km per hour in the next few years.
The other heavy routes are Howrah-Mumbai, Delhi-Chennai, Chennai-Mumbai and Chennai-Howrah totalling 11,295 route km on the Indian rail network.
As part of the capacity enhancement and modernization of existing rail networks, Indian Railways is carrying out work to reduce congestion on various routes, informed Vinod Kumar Yadav, Chairman Railway Board (CRB) while speaking to the media.
Currently the seven high density routes are carrying maximum traffic resulting in slowing down the freight and passenger trains due to congestion.
"A total of seven routes have been identified as High-Density Network (HDN), which has a total length of 11,295 km. There is 60 per cent traffic on these routes. Therefore, we are taking steps to reduce traffic on these routes," CRB said
The plan envisages shifting of the freight service to Dedicated Freight Corridor (DFC) once it becomes fully operational by 2021 resulting in freeing up the path for speedy run of trains.
In order to expand the capacity, work for electrification and doubling the routes are underway on the high density path.
As per the timeline, the high density routes would be ready for running 130 KMPH speed by July 2023 which would be increased to 160 KMPH by 2025.
Increasing the maximum speed will also give further impetus to semi-high speed trains like the Vande Bharata Express. It will allow such trains to unlock their full potential and travel at a speed of 160 Kmph, to ensure passengers have best in class speed and service. In addition, it has been found that the safer LHB coaches too can be made fit for this speed.
The scope of the project includes fencing, Automatic Train Protection System (ETCS 2/TPWS), Mobile Train Radio Communication, and automated and mechanised diagnostic systems, which will considerably enhance safety and reliability. Besides the policy also requires removal of all level crossings which are being eliminated otherwise under a separate plan head.
Railways' capital expenditure allocation in the budget for FY21 has been pegged at Rs 161,042 crore. "Capex will remain at budget estimates levels, we can also increase it where required," Yadav said.
Yadav also talked about the steps about making the process transparent and said that, "General Conditions of Contract (GCC) thoroughly revised; Bonus clause for early completion, EPC Standard Tender Documents, IR-Works Contract Management System an e-portal for handling all works contracts launched, Online drawings approval portal (E-DAS) made operational, Portal for E-Commissioner for Railway System sanctions."
CRB also said steps are being taken to increase freight loading substantially.
"We are talking to stakeholders to see how we can improve freight loading so there is a balance in our revenues. We are looking to rationalise freight in a manner that volumes are increased."