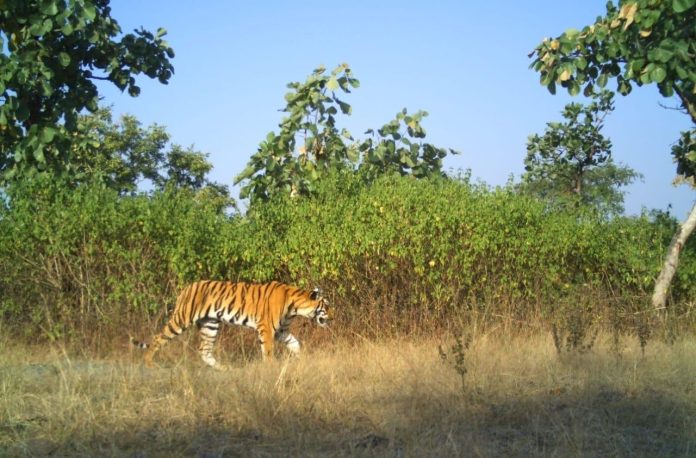 With focus on tigers, the potential of wildlife tourism was recently highlighted to stakeholders keen on the conservation of the striped creatures in the country.
Unveiling the rich heritage of tiger population and its relevance in India, a webinar titled "Tigers and Tourism" under Dekho Apna Desh series underlined the importance of the tiger in the growth of the tourism sector.
Organised by the Tourism Ministry, the session was moderated by Additional Director- General Rupinder Brar and presented by Sandesh Kadur, an eminent wildlife conservation photographer and filmmaker.
As much as 70 per cent of the world's tiger population is found in the diverse habitats of India with about 15 species of big cats presently existing in 50 reserves spread across the country.
However, the fascination for tigers by humankind, Sandesh mentioned, has existed since millennia.
The intrinsic connection has been successfully seen through south western communities of India who represent their reverence for tigers by painting themselves in tiger stripes, walking from temple to temple and village to village.
Huli Vesha or Pili Yesais, a folk dance famous in coastal Karnataka, is performed during Navaratri to honour Goddess Durga, whose favoured animal is the tiger.
Starting from Jim Corbett National Park in Uttarakhand in the north, to the moist lands of Kaziranga National Park in Assam (Northeast) and the Sunderbans of West Bengal (east) to the dry lands of Ranthambore National Park in Rajasthan, Kanha and Bandhavgarh Tiger reserves in Madhya Pradesh, central India — the tiger binds India from top to bottom, east to west.
There are many other reserves in the rainforests of the Western Ghats such as Nagarhole National Park, Periyar Tiger reserve, Bandipur National Park and Anamalai Tiger reserve, Madumalai National Park in southern India amongst many others, where these large animals have been preserved in different arrays of habitats.
Sitting amidst the picturesque forests of Agumbe, Sandesh started his hour long talk on Tigers and Tourism with a time travel back during his teens when he would read books by the famous British hunter Jim Corbett and eventually got inspired to document the wild big cats for a living.
Almost eight years ago, he travelled across India to document a video on Tigers and Tourism which brought him into understanding how Indian tourism is highly influenced by the large population of these mighty striped creatures.
Filmmaker of the documentary Wild Cats of India, Sandesh stressed on how being a responsible tourist and practising co-existence will go a long way in protecting the lives of these cats.
India's astounding diversity in wildlife draws people to visit the country in large numbers and such crowding may be a threat to the animals, and tigers in general, if sustainability is not made the focal point.
The Dekho Apna Desh webinar series, launched on 14 April 2020, till date has conducted 22 sessions showcasing the varied tourism products and experiences that India offers across the country.
The series has attracted a viewership of over 90,000 persons till now.
The National e-Governance Division (NeGD) created by the Ministry of Electronics & Information Technology (MeitY) has been playing a pivotal role in supporting the Ministry in conducting of the Dekho Apna Desh webinars by providing technical assistance directly with a professional team.
The sessions of webinars are now available here and also on all social media handles of the Ministry of Tourism, Government of India.
Arun Kumar Das is a senior journalist covering railways. He can be contacted at [email protected].