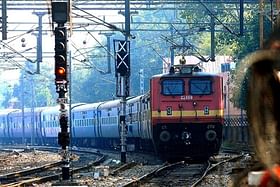 The South-Central Railway (SCR) has identified 20 railway stations that will be upgraded under the Amrit Bharat Station.
The selected stations include Karimnagar, Hi-tech city, Hafizpeta, Tandur, Vikarabad, Lingampalli, Parli Vaijnath, Zahirabad, Bidar, Bhadrachalam Road, Khammam, Madhira, Mahabubabad, Warangal, Manchiryal, Ramagundam, Peddapalli, Kazipet, Jangaon and Yadadri.
As part of this exercise, the SCR zone has issued Request for Proposal (RFP) for selection of technical consultant for preparing master plan, technical feasibility report, estimate, construction drawings etc. for redevelopment of the 20 identified Railway stations.
In Phase-I, three stations namely, Kazipet, Jangaon and Yadadri of Secunderbaad division will be taken up for redevelopment under the scheme.
The South Central Railway is one of the zones of Indian Railways and predominantly serves Andhra Pradesh, Telangana, Maharashtra and to a limited extent, Karnataka, Tamil Nadu and Madhya Pradesh. It has six divisions – Secunderbaad, Vijayawada, Guntakal, Guntur, Hyderabad and Nanded.
Amrit Bharat Station Scheme 
The Ministry of Railways, as part of its station redevelopment drive, has formulated a new scheme to modernize over 1000 small stations over the coming years.
Under the Amrit Bharat Station Scheme, stations will be equipped with facilities inspired by the mega-upgradation of marquee stations such as New Delhi and Ahmedabad, albeit at a lower cost.
The scheme aims at preparation of Master Plans of the Railway stations and implementation of the Master Plan in phases to enhance the facilities including and beyond the Minimum Essential Amenities (MEA) and aiming for creation of Roof Plazas and city centres at the station in long run.
Scale of amenities and facilities to be provided shall be finalized based on the broad guiding principles of the scheme, footfall at the station, stakeholder consultations including end-users and local authorities and with approval of Divisional Railway Manager (DRM).