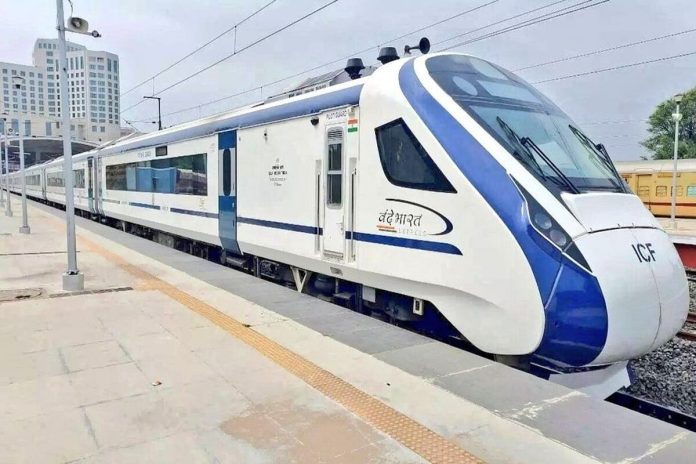 Union Railway Minister Ashwini Vaishnaw announced that Neemuch in Madhya Pradesh is set to receive a Vande Bharat Express in the near future.
Speaking to the public in Neemuch on Monday, the railway minister stated, "The time has come for the Vande Bharat Express to operate on this particular route. Your Member of Parliament (MP) Sudhir Gupta has already made the request for this, and we will soon see the Vande Bharat Express operating on your route."
The Vande Bharat network has expanded significantly with the ongoing introduction of new trains, encompassing 25 operational routes that covers various key cities and towns in the country.
Covering over 12,000 km and connecting nearly 150 stations, the network spans 24 states and union territories (UTs).
Among this extensive network, Madhya Pradesh currently has three operational Vande Bharat routes.
This includes the service between New Delhi and Bhopal, which was launched on 1 April 2023.
Additionally, in June 2023, Prime Minister Narendra Modi, during his visit to the state, launched two more routes running between Bhopal-Jabalpur and Bhopal-Indore.
This was part of a mega launch ceremony that included inauguration of five new Vande Bharat routes.
The Rani Kamalapati-Jabalpur Vande Bharat Express connects Mahakaushal Region (Jabalpur) to the Central Region (Bhopal) of Madhya Pradesh.
Also, tourist places like Bheraghat, Pachmarhi, Satpura have been benefitted by improved connectivity. The train runs faster by about thirty mins as compared to the existing fastest train in the route.
Further, the Bhopal-Indore Vande Bharat Express aimed to improve connectivity of Malwa Region (Indore) and Bundelkhand Region (Khajuraho) to Central Region (Bhopal).
This will benefit the important tourist sites like Mahakaleshwar, Mandu, Maheshwar, Khajuraho, Panna. The train will be about two hours and thirty mins faster than the fastest existing train on the route.
To track all updates on the expansion of the Vande Bharat Express, stay connected with Swarajya's dedicated Vande Bharat Dashboard.