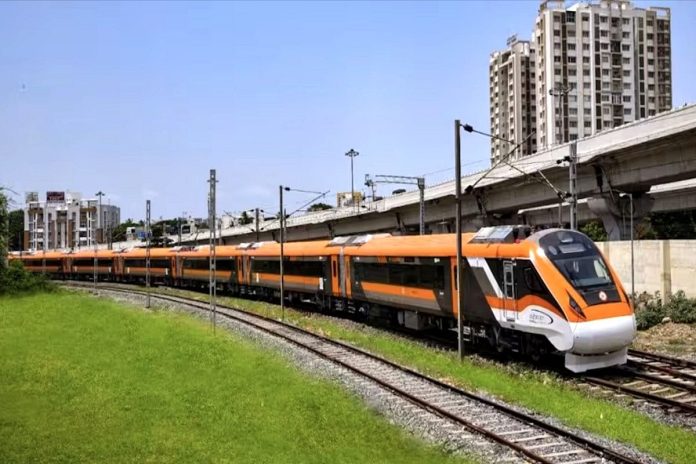 The Indian Railways is planning to run Vande Bharat express trains that will connect Vadodara city in Gujarat to Pune in Maharashtra.
Additionally, in its expanding network, the state is also set to receive its second semi-high-speed train between Ahmedabad and Mumbai Central. According to a report from the Times of India, trial runs for this route were conducted on 10 November.
Following an increase in demand from commuters, a decision was made to introduce a new train route between Ahmedabad and Mumbai Central.
Launched in 2022 by Prime Minister Narendra Modi, the presently operational Vande Bharat service to connect Mumbai Central and Gandhinagar, experienced a daily ridership of 142 per cent in October this year, while the opposite direction recorded a ridership of 146 per cent, as reported by TOI.
Further, officials have stated that the Vadodara-Pune Vande Bharat Express will be connected via Vasai Road.
A trial run between Vadodara and Vasai Road is scheduled to take place soon, while the trial schedule for the Vasai-Pune leg has not yet been released.
Currently, Gujarat has three operational Vande Bharat Express trains that establish connections between the state and destinations in Rajasthan and Maharashtra.
In addition to the Mumbai-Gandhinagar Vande Bharat Express, the network includes the Jodhpur-Sabarmati Vande Bharat Express and the Jamnagar-Ahmedabad Vande Bharat Express, which were launched on 24 September 2023.