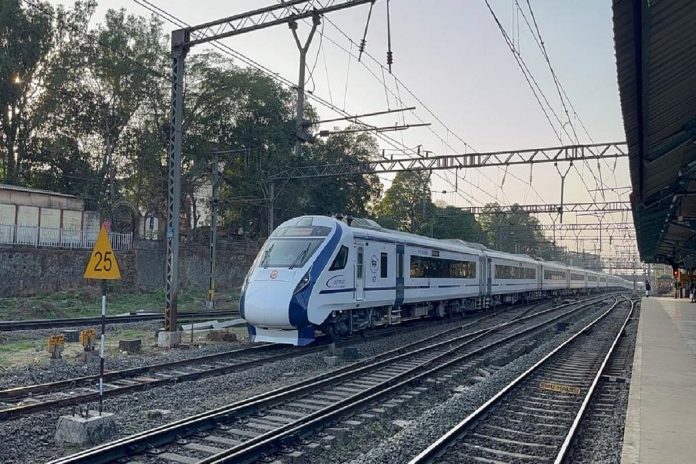 As the Indian Railway authorities continue to explore new routes to add to the Vande Bharat network across the country, the Northern Railways is mulling to launch Vande Bharat Express service between Chandigarh and Jaipur.
Ambala Division of Northern Railway has put in a request for operation of Vande Bharat Express train on Chandigarh-Jaipur railway line via Delhi, reports Times of India.
The proposal to start the train is under consideration, said Ambala divisional railway manager (DRM) Mandeep Singh Bhatia.
The division is hopeful that the Railway Board will give it the go-ahead. Presently, two Vande Bharat trains terminate and pass through Ambala division.
One Vande Bharat Express train runs on Delhi-Katra route via Ambala. The other train runs between Amb Andaura and New Delhi, with a halt in Chandigarh.
DRM Bhatia said, "The train is under consideration and is at discussion stage at present. Vande Bharat trains have picked up popularity under the Ambala division, especially between Chandigarh-Delhi. It is going on 80 per cent to 90 per cent occupancy."
A railway official said that with the introduction of the new train on the Chandigarh-Jaipur route, not only will the passengers get a new experience, but the travel time will also be reduced.
For Rajasthan, this newly proposed inclusion in the network will add the third Vande Bharat train in the state.
At present, Rajasthan is served by two Vande Bharat trains — one linking Jodhpur and Sabarmati, and the other connecting Ajmer and Delhi.
Recent reports indicate that the possibility of introducing a Vande Bharat service between Udaipur and Jaipur is also being explored.
Currently, there are 25 Vande Bharat trains running across the country, while four more such rakes are awaiting green signal to be pressed into service this month, taking the number to 29.
The four new routes planned to be launched this month includes — Patna-Howrah, Kacheguda-Yeshwanthpur, Chennai-Vijayawada and Chennai-Tirunalveli.
To track all updates on the expansion of the Vande Bharat Express, stay connected with Swarajya's dedicated Vande Bharat Dashboard.