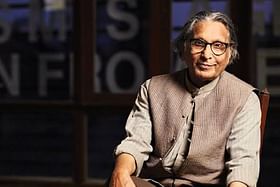 Architect Balkrishna Doshi, one of the most prominent Indian minds in the world of architecture, passed away at the age of 95, on Tuesday (24 January 2023).
With his legacy of design and practice spanning seven decades and more than 100 projects, he was known for his pioneering work in low-cost housing, institutional and public buildings.
BV Doshi became one of the most influential architects of India, creating a language of modern design principles while respecting the depth of local culture and traditions.
He was the first Indian architect to receive the Pritzker Award, the highest honour in architecture for his distinguished career in architecture, in the year 2018.
Doshi spent his early career working with other renowned architects and planners. This includes his assistance with Le Corbusier on his design and planning for Chandigarh, and Louis Kahn for designing the Indian Institute of Management, Ahmedabad (IIM-A).
He settled in the Ahmedabad, where he established his practice, Vastu Shilpa Consultants, and continued to complete some of the best-known projects in modern Indian architecture.
He founded the School of Architecture in Ahmedabad in the 1960s, which later emerged as the Centre for Environment Planning and Technology (CEPT) University.
He was conferred with the Padma Shri in 1976 and the Padma Bhushan in 2020. For his outstanding contribution to the field of architecture, he was also awarded the RIBA's Royal Gold Medal in 2021.
His iconic projects include – The Indian Institute of Management, Bangalore (IIM-B), Shreyas Comprehensive School Campus in Ahmedabad, Atira Housing in Ahmedabad, Aranya Low-cost Housing in Indore, Sawai Gandharva in Pune and Amdavad ni Gufa, a cave-like art gallery that exhibits the work of artist M F Husain, also known as the Hussain-Doshi Gufa.