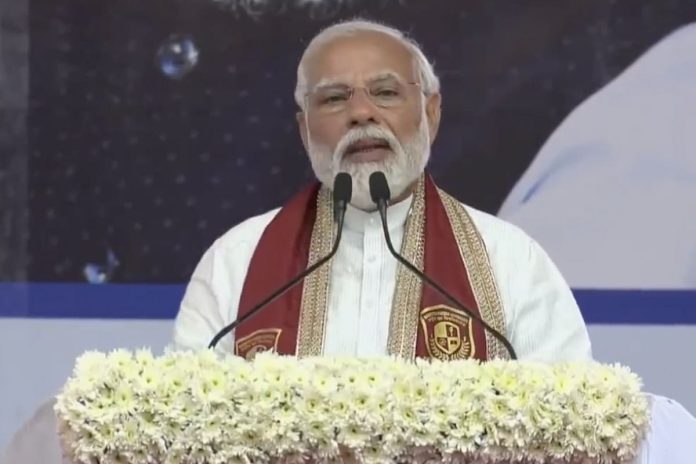 Prime Minister Narendra Modi will dedicate 'Yashobhoomi' at Dwarka to the nation today (17 September).
The Prime Minister will also inaugurate the extension of the Delhi Airport Metro Express line from Dwarka Sector 21 to a new metro station at Dwarka Sector 25.
His vision of having a world-class infrastructure for hosting meetings, conferences, and exhibitions will be strengthened with the operationalisation of Phase 1 of the India International Convention and Expo Centre called 'Yashobhomi'.
Yashobhoomi will find its place among the world's largest MICE facilities with a total project area of over 8.9 lakh square metres and a total built-up area of more than 1.8 lakh square metres. MICE stands for meetings, incentives, conferences and exhibitions.
The convention centre, built across more than 73,000 square metres of area, comprises 15 convention rooms. These include the main auditorium, the grand ballroom, and 13 meeting rooms with a total capacity of 11,000 delegates. The centre has the largest LED media facade in the country.
The main auditorium is the plenary hall for the convention centre and is equipped with a seating capacity of around 6,000 guests.
Developed at a cost of about Rs 5,400 crore and with a total project area of over 8.9 lakh square metres, 'Yashobhoomi' will be among the world's largest MICE destination.
The auditorium has one of the most innovative automated seating systems which allows the floor to be flat or an auditorium style tiered seating for different configurations.
The wooden floors and the acoustic wall panels used in the auditorium will ensure a world class experience for the visitor.
Delhi Metro will also increase the operational speed of metro trains on Airport Express Line from 90 to 120 km/hr reducing the travel time. The journey from 'New Delhi' to 'Yashobhoomi Dwarka Sector 25' will take about 21 minutes.