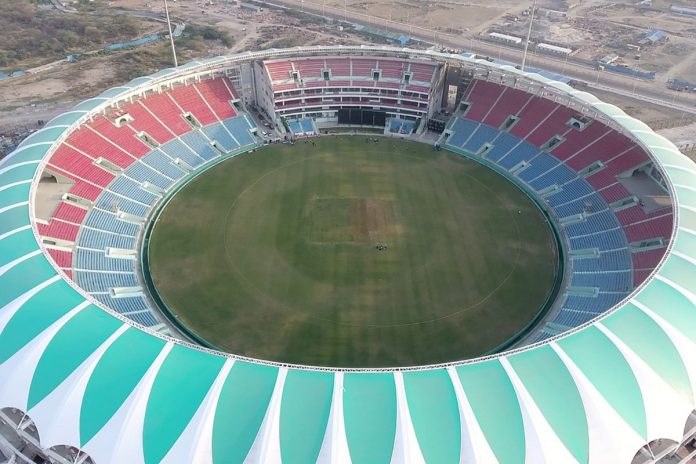 Indian Prime Minister Narendra Modi will lay the foundation stone for a state-of-the-art international cricket stadium in the Ganjari area of Varanasi, in Uttar Pradesh, on 23 September.
The stadium, estimated to cost Rs 450 crore, will have modern amenities and a seating capacity for 30,000 spectators.
The foundation stone laying ceremony is expected to be a grand event, with the active involvement of the Board of Control for Cricket in India (BCCI) and the Uttar Pradesh Cricket Association (UPCA).
Many star cricketers are likely to attend this momentous occasion, as reported by Times Of India.
According to Kaushal Raj Sharma, the Divisional Commissioner, preparations are underway at Ganjari for the Prime Minister's visit.
The ongoing Kashi Saansad Sanskritik Mahotsav is showcasing the best performers, who will have the opportunity to showcase their talents at the ceremony.
Prizes will be awarded to the winners of this cultural festival. Sportsmen from Varanasi and nearby regions will be invited to join the event.
The construction company, Larsen & Toubro (L&T), has nearly finalised the design and drawings for the proposed stadium.
The next steps involve obtaining approvals from UPCA and securing no-objection certificates from various departments such as forest and ground water. These necessary formalities are currently in progress.
Once the aforementioned formalities are completed, L&T will begin the process of leveling the acquired land and constructing the boundary wall for the stadium.
The government has allocated Rs 120 crore for land acquisition, while the remaining Rs 330 crore will be used for the construction of the stadium.
Upon the successful completion of this Rs 450 crore project, the international cricket stadium will be able to accommodate 30,000 spectators and will be ready to host international cricket matches.
Additionally, the development of roads and other necessary facilities in the vicinity of the stadium is expected to commence in the near future.