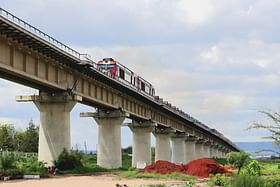 China's ultimate goal through its 'debt trap diplomacy' is to gain leverage over nations and potentially seize their infrastructure and resources.
Many Chinese-funded infrastructure projects have not yielded the expected returns, leaving governments in debt over their heads.
The Belt and Road Initiative (BRI), launched by Chinese President Xi Jinping a decade ago, has sparked intense debate and scrutiny on the global stage.
The BRI plans to connect east and west overland across the Eurasian landmass and envisions three routes: from China to Europe via Central Asia; from China to the Persian Gulf and the Mediterranean via West Asia; and from China to South East Asia and South Asia.
The road, which plans to connect China with Asia, Africa and Europe through maritime routes by sea, also envisages three components: from China to South East Asia, on to South Asia, and through East Africa to the Mediterranean.
This ambitious infrastructure development project has seen China lending over $1 trillion to more than 100 countries, dwarfing Western investments in the developing world.
However, the BRI has become a topic of contention, with many analysts labelling it as "debt trap diplomacy", saying that China's ultimate goal is to gain leverage over nations and potentially seize their infrastructure and resources.
One of the most frequently cited examples of this alleged strategy is the case of Sri Lanka's Hambantota port project. In 2017, when Sri Lanka struggled to meet its repayment obligations for this project, China renegotiated the debt terms, ultimately obtaining a 99-year lease on the port.
This move raised concerns in Washington and other Western capitals about China's intentions to gain access to strategic facilities across the Indian Ocean, the Persian Gulf, and the Americas.
Nonetheless, recent developments and analyses are painting a different picture of the BRI. Many Chinese-funded infrastructure projects have not yielded the expected returns, leaving governments in debt over their heads. These nations often agreed to guarantee the loans, leaving them saddled with substantial debt burdens, making it difficult for them to secure financing for future projects or even service their existing debts.
This predicament is not limited to Sri Lanka but has also affected countries such as Argentina, Kenya, Malaysia, Montenegro, Pakistan, Tanzania, and others.
Rather than being solely concerned about China's acquisition of strategic properties in these nations, Western nations have grown more worried about these countries becoming excessively indebted. This could force them to seek assistance from international financial institutions like the International Monetary Fund (IMF) to repay their Chinese loans.
Thus, Western concerns shifted from the fear of China's strategic acquisitions to the risk of an emerging debt crisis in developing countries, potentially leading to a "lost decade" akin to what some Latin American countries experienced in the 1980s.
Moreover, major Chinese-funded projects have frequently failed to generate the expected economic growth or have encountered opposition from local communities and environmental issues.
Disputes have also arisen over China's preference for using its own workforce and subcontractors, sidelining local counterparts.
The primary concern, however, remains the mounting debt. In numerous countries, expensive Chinese projects have pushed debt-to-GDP ratios to unsustainable levels and triggered balance-of-payments crises.
In some cases, governments agreed to cover revenue shortfalls, obligating taxpayers to rescue failing projects. These "contingent liabilities" were often concealed from citizens and other creditors, masking the true extent of government debt.
In certain instances, China made these deals with corrupt or 'authoritarian-leaning' governments, which subsequently passed on the debt burden to more transparent and democratic administrations, reports the Economic Times.
As China approaches the tenth anniversary of the BRI, it seeks to portray the initiative as a global gift that has brought substantial economic benefits. China claims to have created jobs and lifted millions of people out of poverty through BRI-generated growth.
However, the West sees the BRI as a political tool aimed at suppressing criticism of Xi Jinping's rule and providing advantages to Chinese companies while burdening nations with crippling debt.
Xi Jinping has presented the BRI as a sustainable development programme and a "public good" for the international community. While it has increased development financing for low-income countries, the BRI has not been without its challenges.
Accusations of mismanagement and corruption have plagued BRI projects, contributing to debt and financial stress in the developing world.
A recent study involving AidData, the World Bank, and Harvard's Kennedy School revealed that Chinese lenders had to extend $240 billion in emergency rescue operations to 22 debtor countries by the end of 2021, indicating that many BRI projects were not financially viable or sustainable.
Prominent BRI participants like Pakistan have not necessarily seen improved economic prospects, and the initiative has been associated with high-profile debt crises in countries like Sri Lanka and Zambia. As the BRI continues to evolve, it remains a topic of global discussion, with diverse perspectives on its impact and consequences.
The Coming Of The 'Belt And Road Initiative'
The initiative began with the launch of the Asian Infrastructure Investment Bank (AIIB), whose aim is to fill in for the multi-trillion-dollar deficit in developing nations to assist them with their infrastructure needs.
Unlike the IMF, the loans from the bank come without the intricate terms and conditions of the IMF on fiscal, monetary, social, economic, or environmental policies.
The AIIB, in China's view, aims to be a far more accessible alternative to the IMF and other multilateral lending institutions of the West. Money is the foundation of China's 'Sinocentric global order'.
Interestingly, China's approach towards the BRI is similar to the one it has domestically. Projects, grand in scale and exceeding in quantity, are sanctioned without evaluating their long-term viability.
Driven by the ease of lending from state-backed banks and lenders, Chinese construction firms are taking over the world.
In 2002, when these firms accounted for only 25 per cent of the development lending in China, the firms in 2016 accounted for over 75 per cent of the borrowing. Between 2011 and 2013, China used more concrete than the US did in the entire twentieth century.