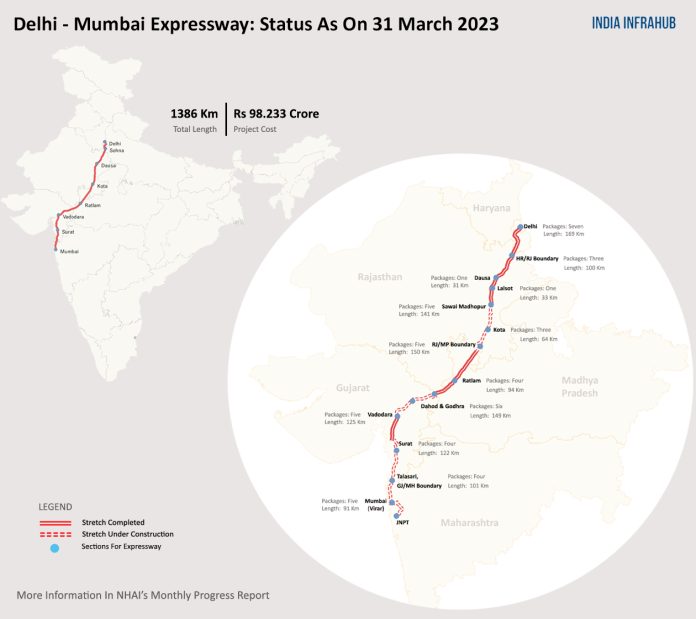 The National Highway Authority of India (NHAI) recently released the monthly progress report on the development of the Delhi-Mumbai Expressway.
The report provides a comprehensive package-wise update on the construction progress of the 1,386 km long road network that connects Delhi and Mumbai, passing through five states, namely — Haryana, Rajasthan, Madhya Pradesh, Gujarat, and Maharashtra.
The NHAI is overseeing the construction of the main carriage way through 53 different packages.
The preparatory work for the eight-lane greenfield highway began in 2018, with the foundation stone being laid on 9 March 2019.
The expressway is intended to enhance accessibility to economic hubs such as Jaipur, Kishangarh, Ajmer, Kota, Chittorgarh, Udaipur, Bhopal, Ujjain, Indore, Ahmedabad, Vadodara, and Surat.
Swarajya analysed the NHAI's report on various packages till 31 March 2023, to evaluate and map the overall progress of the longest expressway in the country.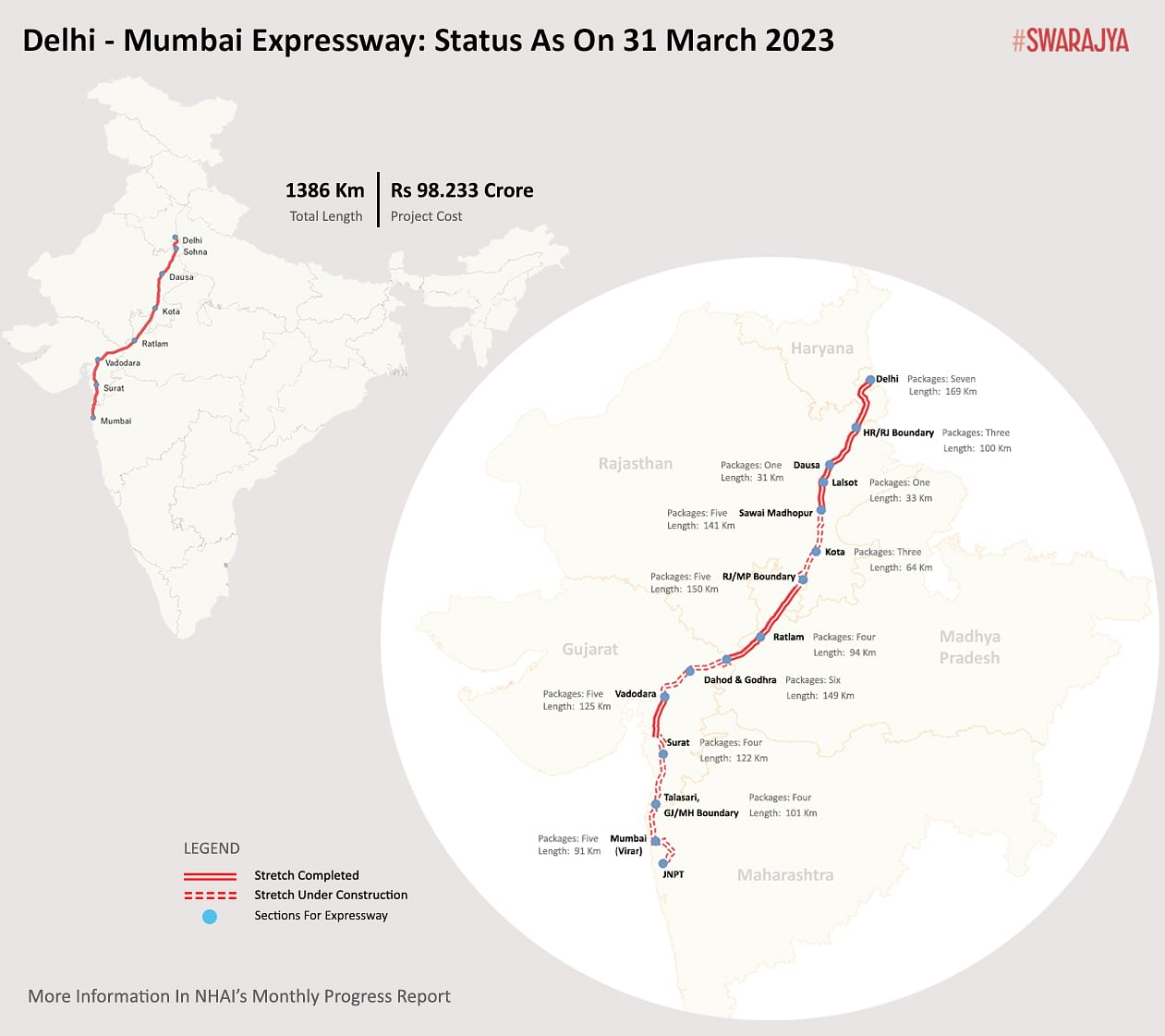 Delay In Gujarat Stretch
While some stretches of the expressway have been facing delays in the development process.
Recent reports suggest that land acquisition problems in Gujarat have been the primary reason for the delay in bidding out two stretches.
In a written reply submitted to Rajya Sabha, the Highways Ministry reported that the NHAI awarded the work for construction of a 35 km stretch of the expressway corridor in Valsad district in Gujarat, costing Rs 3,633 crore.
Additionally, it has also bid out the construction of a further 27 km stretch in Navsari district for Rs 2,287 crore. However, construction has not started in either case.
Operational Stretch Of The Expressway
The first segment of the Delhi-Mumbai Expressway, the Sohna (Haryana) — Dausa (Rajasthan) section, was inaugurated by Prime Minister Narendra Modi on 12 February 2023.
The Sohna-Dausa stretch is a significant connectivity channel, that will reduce the travel duration, of the massive 270 km distance between Delhi and Jaipur — to two hours.
The opening of the corridor is expected to have a positive impact on the real estate development in Gurugram, specifically with inflow of investments in Sohna and its surrounding expanse.
Furthermore, the National Highways Authority of India (NHAI) is developing an extended linkage between the Delhi Noida Direct (DND) Flyway and the Delhi-Mumbai Expressway for a seamless connectivity.
This extension is being developed in three packages.
The Delhi-Mumbai Expressway is being developed as part of the "Bharatmala Pariyojana", the special highway sector program of the Ministry of Road Transport and Highways.
This world-class highway project will directly link India's national and financial capitals, Delhi and Mumbai, respectively, and reduce travel time between the two cities by half.
Once the project is completed, it will only take 12 hours to travel between Delhi and Mumbai.