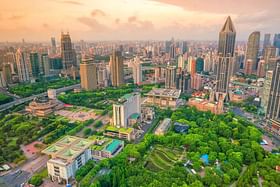 The "15-minute city" is an urban planning approach that seeks to establish cities, where citizens can access all their necessities within a shorter radius, either by walking, cycling, or using public transportation.
Multiple theories, ideas, and concepts related to planning and development continue to evolve as new methods for urban development are explored on a global scale.
To address the increasing challenges and anticipate the future of cities, discussions around various concepts of urban planning are underway.
As India undergoes a transformation in its urban landscape, with a keen focus on creating "sustainable cities of tomorrow", it has become imperative for the government, planners, and authorities to constantly explore new advancements for its developing urban areas.
One such idea currently active in the city development discourse is the '15-minute city' planning concept.
The idea was first presented by Franco-Colombian scientist Carlos Moreno and envisions a more decentralised city.
The discussion around the concept gained momentum during the COVID-19 crisis, with the rising need of shorter, personal travel spaces and improved accessibility.
This globally debated concept of the '15-minute city' can also be contextualised for India's urban development, considering a few of its ideas align with the Indian systems of city planning and cultures.
What Are '15-Minute Cities'
The "15-minute city" is an urban planning approach that seeks to establish cities, where citizens can access all their necessities within a shorter radius, either by walking, cycling, or using public transportation.
This concept puts an emphasis at the neighbourhood level, giving each region the features required for quality liveability — including jobs, housing, food, recreation, green spaces, medical facilities, small businesses and more.
From a planning perspective, the idea advocates developing networks of self-sufficient neighbourhoods wherein individual needs can be catered locally — and not dividing the city into zones of shopping, residential or business districts.
The concept has also gained support with the growing recognition for multiple active transport options, green spaces and accessibility challenges in today's cities.
However, the implementation of such concepts requires a more significant effort on the part of municipal governments in delivering the necessary infrastructure to sustain these changes.
The concept has been attempted globally in various sections of cities.
The Mayor of Paris, Anne Hidalgo, was one of the first to embrace this concept that represented a spatial arrangement wherein residents could meet their daily needs on foot, within a 15-minute radius of their homes.
Further, following similar ideas, cities like Bogota and Berlin have attempted to create temporary bike lanes for public transit.
There have been plans for road-space reallocation in Milan and Barcelona, while Lisbon and México City have launched public and private shared bike schemes.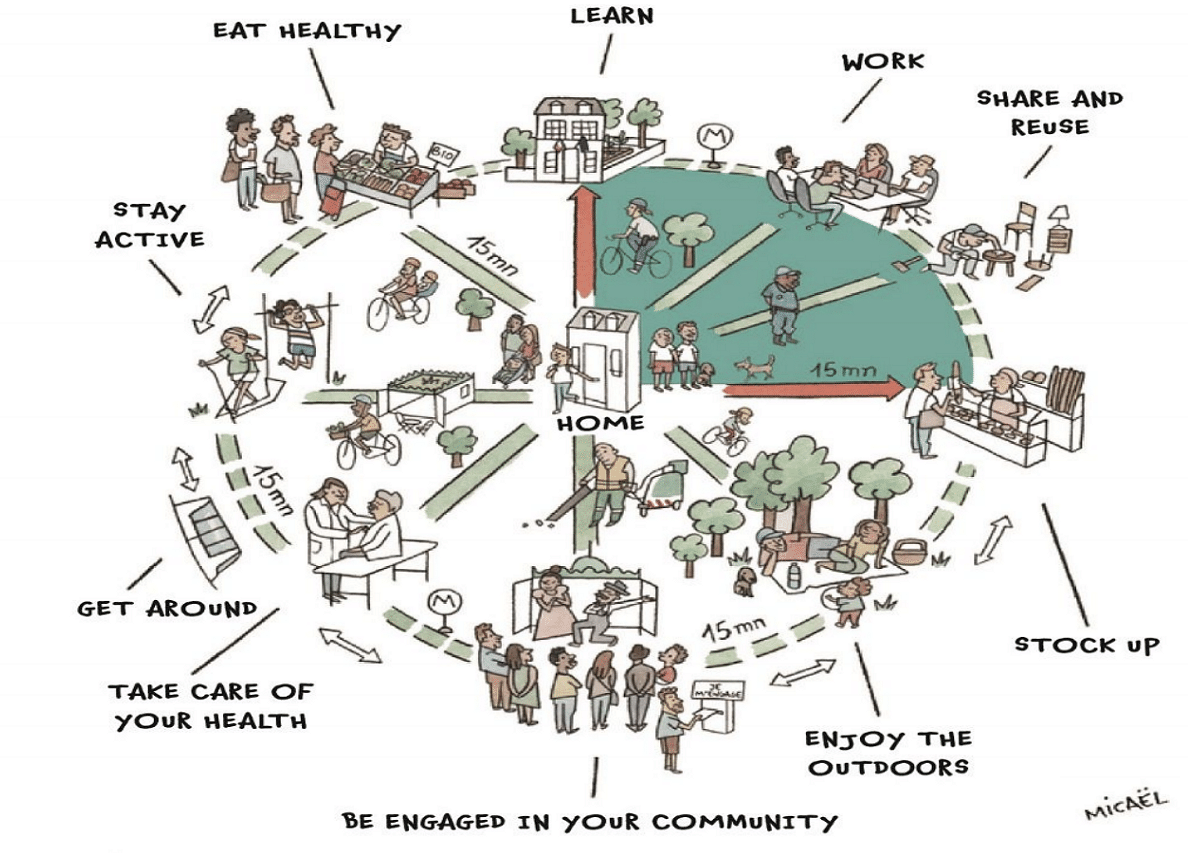 Considerations For Indian Suburbs And Proposed Greenfield Cities
In India, most of the suburban areas and satellite towns are already emerging with a self-sustaining economy of its own, driven by the shift of large populations, resources and investments towards these urban engines.
This has led to a massive demand to fulfil the basic needs, creating more mixed-use opportunities for accessible facilities within a smaller radius, which is ongoing, both through formal and informal means.
This trend is visible in the growth of Mumbai and the Mumbai Metropolitan Region (MMR), where the primary economic centres have multiplied, and the suburban regions have been able to have their own regional micro-economies.
Likewise, the satellite towns around Delhi such as Noida, Dwarka, and others, have grown as independent economies, with most features available at accessible distances.
Thus, what these urban regions may derive from the concepts of the "15-minutes City" planning — is the emphasis on suitable infrastructure for alternate modes of transit feasible to cover the shorter distances, thereby reducing dependency on cars to cover the same.
Despite the presence of all facilities in close proximity, dependency on motor vehicles still dominates the transit patterns, owing to the infrastructure development specifically for vehicles in these cities.
The spatial implementation of the concept could reduce this reliance, complement the ideas of transit-oriented development (TOD) and further promote infrastructure for walkability, cycling, e-bikes and more — which also have positive environmental impacts.
Several Indian cities have taken steps to promote alternative modes of transportation, such as bicycle sharing and pedestrian infrastructure, for last-mile connectivity and shorter distances.
However, the complexity of existing city culture in India has made it challenging for these models to be successful in most of the Indian cities.
The citizens may have everything within walking distance, the problem remains with the lack of regulated and dedicated infrastructure for the same. (Read on this here)
In the case of Greenfield cities, the fresh planning and ideas can promote a culture and prioritise the desired infrastructure around these ideas.
A Greenfield city is planned by bringing together eco-friendly elements and highly developed infrastructure, countering the existing challenges in larger cities and creating a sustainable future for human habitation.
Few examples from India include, four greenfield industrial cities or nodes that are being developed in Gujarat, Maharashtra, Uttar Pradesh and Madhya Pradesh, under the Delhi-Mumbai Industrial Corridor (DMIC).
The development of these new cities and townships provides the ability to take into account various interrelated factors such as physical infrastructure, social amenities and ecological considerations.
Thus, the integration of the desired parameters in the early phases, will facilitate the development of a sustainable and smart city.
Following these concepts, as accessibility becomes easier along with reduced use of vehicles, the street space can be dedicated to multiple uses — making way for public squares, parks, bike paths, green and leisure areas, while also balancing the atmospheric pollution in the surroundings.
Meanwhile, beyond the localised movements, to facilitate the longer connectivity between megacities, suburban areas and the proposed greenfield cities, large scale developments — including creating advanced network of highways, metro and rail connectivity — are already well underway in the country.