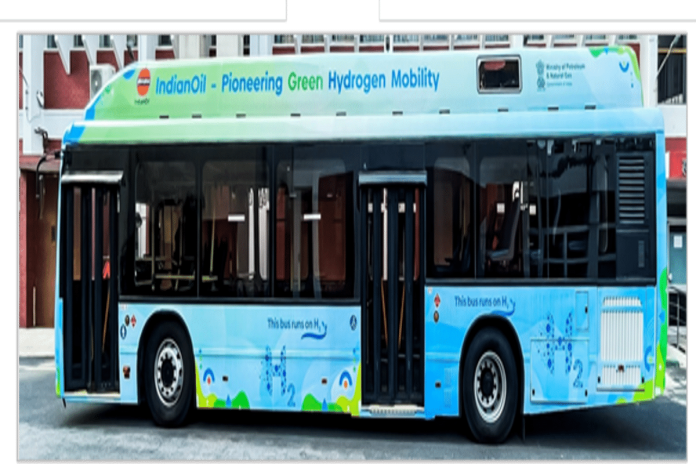 India's first green hydrogen fuel cell bus was launched by Union Minister of Petroleum and Natural Gas Hardeep Singh Puri at Kartavya Path today (25 September)
IndianOil has initiated a scientifically designed program to undertake operational trials of 15 Fuel Cell buses powered by Green hydrogen on the identified routes in Delhi, Haryana and U.P.
Under this program, the first set of two fuel cell buses was launched today from India Gate.
This project is the first-ever initiative in India to dispense green hydrogen at 350 bar to operate fuel cell buses.
IndianOil has also established a state-of-the-art dispensing facility at our R&D Faridabad campus that can refuel green hydrogen produced from electrolysis using solar PV panels.
Indian Oil has also established a refuelling facility at its R&D campus in Faridabad. This facility is capable of refuelling green hydrogen produced through electrolysis using solar PV panels.
According to a statement from the PIB, the first two buses to be launched will cover over 300,000 kilometres during long-term performance and durability assessments. The data collected from these trials will be a valuable national resource, shaping the future of zero-emission mobility in India driven by green hydrogen.
Green hydrogen
Green hydrogen, which is produced using renewable energy sources, is considered a low-carbon fuel and an alternative to imported energy.
Green hydrogen is defined as hydrogen produced via electrolysis, the splitting of water into hydrogen and oxygen with electricity generated from renewable energy sources such as solar or wind.
This is the most environmentally sustainable way of producing hydrogen.
It taps into India's abundant renewable energy resources and offers versatility for various applications, including fuel and industrial feedstock.
It has the potential to replace fossil fuel-derived feedstocks in sectors such as petroleum refining, fertiliser production, and steel manufacturing.
Fuel cell technology
Fuel cell technology is emerging as one of the important spokes in the e-mobility paradigm. Hydrogen can be used as a fuel for Fuel Cells.
The electrochemical reaction converts fuel (hydrogen) at the anode and oxygen from the air at the cathode to water and liberates electrical energy in the form of electrons. Fuel cells are highly efficient as compared to other mobility options.
Fuel cell technology (Twitter)
Fuel cell vehicles have inherent advantages of long-range and lower refuelling time as compared to battery vehicles.
Hydrogen gas is compressed and stored onboard in cylinders, typically at a pressure of 350 bar.