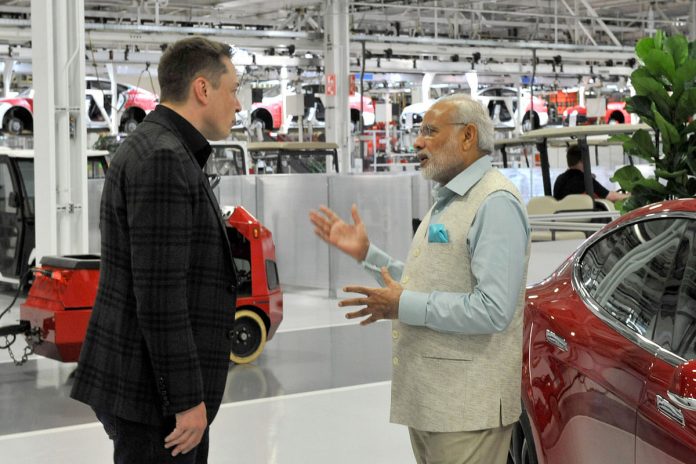 American multinational automotive and clean energy company Tesla, has submitted a proposal to the central government officials to manufacture and sell battery storage systems in India.
This move is part of chief executive officer Elon Musk's ongoing efforts to enter the Indian market.
This proposal includes using Tesla's "Powerwall" system, which can store power from solar panels or the grid for use during outages or at night.
While Tesla has been in discussions about establishing an electric vehicle factory in India, its plans for battery storage have not received widespread attention.
During recent meetings in New Delhi, Tesla presented its proposal to support India's battery storage capabilities with its Powerwall system.
The sources, who preferred to remain anonymous, revealed that the company discussed these plans with Indian officials. However, the Indian government indicated that it would not provide incentives for a battery storage factory.
Instead, the government suggested the possibility of offering subsidies to consumers who purchase Tesla's battery storage products, creating a fair business model for the company.
Tesla's broader plans in India extend beyond electric vehicles, as the company is interested in finding residential and industrial customers for its battery storage systems, such as the Powerwall.
India continues to experience electricity shortages during peak times, despite efforts to boost supplies to towns and villages.
Last year, the country experienced a severe power crisis, primarily caused by issues with coal transportation and delays in expanding coal and hydropower capacity. To address these challenges, India has set a target of increasing non-fossil fuel power capacity to 500 GW by 2030.
One solution to India's power challenges can be the implementation of the Powerwall, a technology that can store excess energy for later use.
Tesla's Powerwall is designed for domestic and light commercial use, but there is potential for larger solutions for industries in India, as mentioned by a source.
Indian officials recognise the potential demand for Tesla's battery storage products and are willing to support Tesla in tapping into the market.
In California, the cost of a Powerwall is over $5,500, with additional expenses for solar panels. However, various incentives are available in the United States, including federal tax credits and local incentives for solar and energy storage.
Additionally, some Powerwall users in Texas have recently agreed to sell their excess power back to the electric grid, showcasing the potential for Powerwall owners to contribute to the overall energy supply.
Tesla's Powerwall could play a significant role in improving electricity availability and reducing reliance on coal-based power generation.