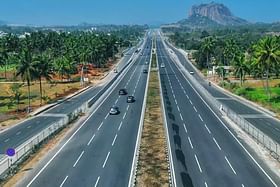 The expressway will reduce the travel time between Bengaluru and Mysuru to 90 minutes.
Beginning tomorrow (28 February), commuters using the Mysuru-Bengaluru expressway must pay a toll to travel from Bengaluru to Nidaghatta in Mandya district .
The National Highways Authority of India (NHAI) has announced toll charges on the first stretch (55.63 km) of the of the 119-km expressway (National Highway 275).
As per the notification issued by the NHAI, the toll levy will be collected at the Sheshagirihalli toll plaza, near Kaniminike village.
According to The New Indian Express report, following a meeting with the Ramanagara district administration, the NHAI has decided to begin collecting tolls at 8am on Tuesday (28 February).
The fee for single journey ranges from Rs 135 to Rs 880, based on the vehicle category.
The six lane Bengaluru-Mysuru Expressway will be officially inaugurated by Prime Minister Narendra Modi on 11 March.
With most portions of the expressway open for vehicular traffic, the opening of the 7-km-long Srirangapatna bypass last week, marked the completion of the project. A few minor works related to bridges that are pending are expected to be completed soon.
While the Srirangapatna Bypass was opened for commuters on 28 January, another critical link — the Mandya bypass — was opened three days before that.
Mysuru-Bengaluru Expressway
The 10-lane expressway (two-lane service roads on both sides) was conceptualised and executed as two distinct packages: 58 km Phase-1 between Bengaluru and Nidaghatta and 61 km Phase-2 between Nidaghatta and Mysore.
The expressway comprises of 8-km-long elevated corridors, nine major bridges, 42 minor bridges, 64 underpasses, 11 overpasses, four Road-Over-Bridges (ROBs) and five bypasses.
The expressway comprises six bypasses at Bidadi (7 km), Ramanagara and Channapatna (22 km), Maddur (7 km), Mandya (10 km) and Srirangapatna (7km).
The project's estimated cost is more than Rs 8,000 crore and includes brownfield and greenfield sections. Leading infrastructure firm Dilip Buildcon executed both packages.
The expressway originates near the NICE Road on the outskirts of Bengaluru and terminates near the Outer Ring Road junction in Mysuru.
The expressway is set to reduce the travel time between Bengaluru and Mysuru to 90 minutes.