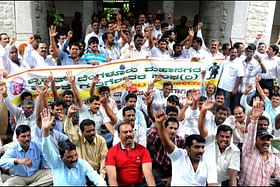 Bruhat Bengaluru Mahanagara Palike (BBMP) contractors have stopped work on all ongoing civic projects and maintenance work in the city in protest against the civic body not clearing outstanding bills for executed works, The Hindu reported.
All projects have been stopped, including maintenance. Work will be resumed only after payment," The Hindu quoted BBMP Contractors' Association president K.T. Manjunath as saying.
"For 2023-24, the Palike collected around Rs 2,000 crore as tax. The previous government transferring Rs 650 crore to the civic body. We request the chief commissioner to inform us about the reason for Palike not clearing the bills for works done by contractors for about 26 months." Manjunath further added.
Manjunath also revealed that about 500 contractors have written to President Droupadi Murmu seeking her permission for euthanasia.
He said the association is collecting statements, including video messages, from the distressed contractors to be sent to the President's office.
Just days after it assumed office, the Congress government in Karnataka directed heads of various departments in the state to immediately halt all development projects initiated by the previous BJP government and withhold the release of funds for the work executed with immediate effect.
A circular to this effect was issued by the state finance secretary to the secretaries, additional secretaries and other officers of all government departments, boards and corporations.
The circular has also explicitly asked the department and other government bodies to stop the release of funds or payment of bills towards the works taken by all the departments, boards, corporations, and various authorities as per the instructions of the previous dispensation.
The decision by the Congress government to freeze payments of bills for all ongoing and completed works of various departments evoked an angry response from the Contractors' Association.
The state government announced that it will order the release of pending payments to be tune of Rs 675 crore, but it has now delayed the decision by setting up a committee to audit the works and bills submitted. The move is set to further delay the settlement of payments due to the contractors.