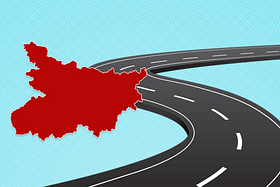 Bihar, one of the largest states in the Hindi heartland, is often in news for many things. But, of late, it has been in the spotlight due to a string of major infrastructure failures.
Contrast this, the neighbouring Uttar Pradesh, which was in the same boat until a few years ago, is now famous for being the 'Expressway capital' of the country.
What should a poor state like Bihar do to improve their status then? The answer is relatively straightforward: 3S — scale, strength and speed.
Scale
The state is in dire need of expanding its infrastructure, encompassing additional national highways, airports, and railway systems.
For example, the state's share in the NH network is continuously decreasing. According to the Economic Survey of the state for 2022-23, the increase in NH length in Bihar was less than doubled from 3,537 km to 5,940 km, compared to more than doubled at the all-India level, from 65,569 km to 140,995 km, during 2005 to 2022.
"The shrinking share of NH in Bihar in the all-India total should be an issue of probe by the central government," said the survey.
Similarly, Bihar has 31 airstrips, of which only three are operational for domestic flights, ie, Patna, Gaya and Darbhanga.
While Gaya and Patna airports are two operational Airports Authority of India (AAI) airports, Darbhanga is an operational AAI civil enclave under the Indian Air Force (IAF) and has limited flights.
The need for more airports can be attributed to the north-south divide which makes the journey to the airport in Patna difficult and burgeoning air traffic which means demand has outstripped supply. Any person who wishes to fly out of the state has to undertake an arduous five-six-hour journey to the state capital, leading to time and cost constraints.
Similarly, the aviation sector in Bihar has grown roughly by eight times over the past decade and generated Rs 252 crore in the 2021-22 fiscal alone, according to the Bihar Economic Survey, which means more airports will be required to cater to the growing traffic.
To be fair, a major part of blame lies with the state government. The state has not been able to plan let alone develop a single expressway. On the other hand, Uttar Pradesh, the fourth largest state in the country, may be a laggard on social indicators like health and nutrition but the glistening new blacktop expressways that are coming up, crisscrossing the entire state has been the talk of the town.
The state currently has an operational network of six expressways, totalling 1,225 km of length. Another 2,600 km of expressways are being built, making Uttar Pradesh the first state to have a network of 14 expressways, all being built with state's own resources.
Strength
A series of accidents has time and again raised concerns about the safety and quality of infrastructure in the state. To put this into perspective, countless bridges have come crashing down in the northern state in recent history. There have already been at least four bridge collapse incidents in the state this year.
The most recent case occurred on 4 June when a 200-metre superstructure of the under-construction Aguani Ghat-Sultanganj bridge spanning the Ganga River in Bihar suffered a collapse, mirroring a previous incident involving the same bridge just over a year ago.
As is the norm, after the first few days of chaos, rescue operations, customary meetings and discussions, it all gets forgotten about the lives affected and the people responsible. The basic reason behind all these structural failures is low quality of materials used for construction, which is a consequence of administrative anarchy and corruption.
The state has done little to address the issues related to poor construction and safety standards, except indulging in political slugfest.
It must be noted that such incidents are regularly reported from across the country (eg, Morbi bridge tragedy in Gujarat), but the intensity of such occurrences makes Bihar unique.
It would do well for an average citizen if the state government takes preventive measures including regular checkups, structural design audit, detailed inspection of quality of material and workmanship to prevent such tragic incidents.
Speed
Things move at a snail's pace in this eastern state — a two-km-long railway mega bridge on river Kosi, the foundation stone of which was laid by former prime minister late Atal Bihari Vajpayee in 2003, was inaugurated 17 years later in 2020.
To start with, the situation is so dire that the high court has been monitoring the new constructions/widening/four-lane works of all national highways crossing through Bihar by hearing more than 40 PILs filed for expeditious constructions of national highways in the state.
Similarly, it was only in June 2023 when the state government signed a memorandum of understanding (MoU) with the AAI for the construction of new civil enclave at Darbhanga, three years after the airport became functional in November 2020.
Why things move slow may be attributed to various factors, but the delay in completion of crucial projects compounds problems being faced by residents of the state. It would do well if the centre government, especially, takes a proactive step to ensure projects meet their deadline.
A brilliant example of this can be seen in the fact that the Centre in 2018 had agreed to the state government's proposal to bring down the criterion of having 90 per cent land in possession before starting construction work to 70 per cent, which was an important reason behind delay in the implementation of projects.
Bihar had been pressing for a change in criteria because of the high density of population (1,102 persons per sqkm), which makes land acquisition a tardy process fraught with legal hassles.
The Curious Case Of Railways
The state which gave eight rail ministers has an abysmal track record in railways. The issues with railways can be classified in three major areas: very few trains, maximum train delays and slow pace of rail infra upgrade.
The state with high population growth, had always been underdeveloped and poorly governed, creating a large number of travellers using rail to travel across the country in search of jobs.
However, there are not enough trains to accommodate them, which is evident in the number of waitlisted passengers on any train operating to major cities such as Delhi, Mumbai and Chennai. The end result is that masses of migrants are forced to travel in cramped coaches without food and water in sweltering Indian summers.
To make matters more complex, passengers on trains originating from, arriving at, or passing through Bihar stations face significant delays. Train delays need urgent attention as being on-time has a definite value for every traveller.
The most appalling part is neglect for the rail passengers in the scheme of things. Sample this, Bihar was the last state to get its inaugural Vande Bharat train.
It is true that the state has started getting more budgetary allocation — the budgetary allocation of Rs 8,505 crore for FY 2023-24 is 7.5 times more as compared to earlier budgetary allocations of total Rs 1,132 crore between 2009 and 2014.
However, the surprising part is things miraculously do not happen. For example, the Samastipur-Darbhanga doubling new line project which was sanctioned in 2015 is yet to be completed.
Though things have improved much for the better, a lot needs to be done. For the start, a strong Centre-state coordination is required to remove the major stumbling blocks, particularly, issues related to land acquisition. Further, it is time efforts are made to provide multiple avenues of comfortable travel for the local population as well as the inter-state migrant.
Infrastructure investments have a powerful multiplier effect. They enhance accessibility and facilitate trade, improve mobility, generate greater employment opportunities, and boost overall economic productivity. If India has to move forward, Bihar's rightful place has to be secured in time and infrastructure, is a key cog in that wheel.