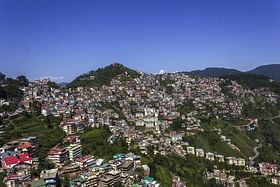 The Centre has given its approval to the detailed project report (DPR) for a new township near Jathia Devi — approximately 30 km away from Shimla. This decision aims to alleviate the strain on Shimla's infrastructure.
A team from the Ministry of Housing and Urban Affairs is scheduled to visit the proposed site in order to assess its feasibility.
The Himachal government submitted a revised DPR, which outlines that the estimated cost of the project is Rs 500 crore.
Initially, the estimated cost of the project was Rs 1,300 crore according to the initial DPR. However, following the Centre's recommendations, it was subsequently reduced, reports Hindustan Times.
The scheme under which this project falls — named Mountain Township — is overseen by the Ministry of Housing and Urban Affairs, and it extends financial assistance ranging from Rs 500 to Rs 1,000 crore to eight states for the establishment of such townships.
"The Himachal government's DPR has garnered positive feedback during various meetings convened so far. However, the release of funds will hinge on the findings of the central team's on-site evaluation. The team is anticipated to visit the site by 15 August, as confirmed by Himachal Pradesh Housing and Urban Development Authority (HIMUDA) chief executive officer (CEO) R K Pruthi.
Currently, the state government owns 35 hectares of land near Jathia Devi.
If necessary, private land will also be considered for acquisition to meet the requirements of the scheme.
The establishment of this new township not only aims to decongest Shimla but also provide relief to the busy city.
Shimla is experiencing rapid growth, leading to congestion in existing areas. Due to its diverse functions encompassing tourism, administrative, and institutional activities, Shimla has transformed into a multifunctional city.
However, the continuous growth and demand have led to various challenges, including traffic, water scarcity, pollution, and ecological damages.
Ribbon development along highways and minor roads surrounding the city is becoming common. Prominent ridges like Sanjauli, Cemetery, Dhalli, Bhattakufar, Mehli, Kangnadhar, Khalini, and Bharari are witnessing significant development, adding to the congestion.
Previously, HIMUDA made efforts for a project in the same area, including attempts to secure foreign funding during the previous Congress government. However, the efforts did not yield any positive results.
The introduction of the Mountain Township scheme by the central government opened up new possibilities — leading to the successful submission of the DPR by the Himachal government.