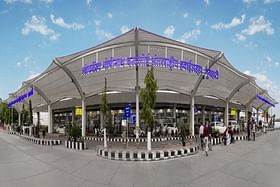 The Ministry of Civil Aviation has identified as many as 25 airports for leasing to private players under the second phase of airport privatisation.
It includes a combination of large airports like Chennai, Varanasi and Kolkata and small airports like Raipur, Kushinagar, Jabalpur, Indore in line with the current monetisation plans of the Aviation Ministry.
The Ministry is currently finalising the terms and conditions for the bidding process and hopes to earn more than Rs 10,000 crore as upfront payment from this exercise.
However, the exact value of proceeds that the Government would receive is dependent upon many factors including transaction timing, market conditions, investor appetite, transaction terms.
Clubbing Exercise
As suggested in the National Monetisation Pipeline (NMP), clubbing of smaller airports with each of the bigger airports and leasing out as a package is being explored.
For example, the Varanasi Airport could be clubbed with Kushinagar Airport. Similarly, Chennai Airport could be clubbed with a nearby smaller airport.
The new formula is expected to attract more private players for the bidding process and also ensure commensurate development of non-profitable airports along with the profitable airports with the help of private sector investment and participation.
However, the bidding formula will be the same as it was during the first phase of airport privatisation i.e., per passenger fees or the revenue.
Eight Airports Leased So Far
Airports Authority of India (AAI) has so far leased out eight of its airports through Public Private Partnership (PPP) for operation, management and development on long term lease basis.
These include Delhi, Mumbai, Lucknow, Ahmedabad, Mangaluru, Jaipur, Guwahati and Thiruvananthapuram airports.
The two biggest airports at Delhi and Mumbai have been awarded on the basis of Revenue Share Model wherein the private player will operate, manage and develop the airports for a period of 30 years which is further extendable by 30 years.
So far, AAI has received annual fees of more than Rs 30,000 crore as revenue share from the private partners of Delhi and Mumbai airports.
The other six airports viz. Lucknow, Ahmedabad, Mangaluru, Jaipur, Guwahati and Thiruvananthapuram have been leased on Per Passenger Fee (PPF) basis with the condition to operate, manage and develop these airports for a period of 50 years.
Further, the private partner of these six airports has paid around Rs 710 crore to AAI as PPF till 31 October, 2022.
AAI has also received an amount of approximately Rs 2349 crore from the private partner of six airports in the form of upfront fee towards the capital expenditure incurred by the authority at these airports.