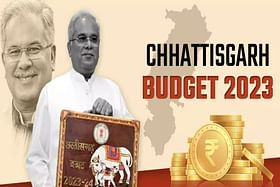 The Chhattisgarh government has made a big push for the metro and air connectivity in the state budget presented on 7 March.
Presenting the Chhattisgarh Budget 2023, Chief Minister Bhupesh Baghel on Monday announced that Metro Lite services will be introduced for daily commute from Nava Raipur Atal Nagar to Durg.
Metro Lite is a prime mode of mass transit in smaller cities. This system which can be constructed at a cost of about 40 per cent of high-capacity metro system is more viable and sustainable due to less capital, operation and maintenance costs.
Durg is the second largest urban area in Chhattisgarh after Raipur and is around 40 km from the state capital.
The Chief Minister has also announced Rs 28.26 crore for the new Chhattisgarh Bhawan at Chanakyapuri in New Delhi.
The budget has also provisions for the development of a new airstrip at Baikunthpur and commercial airport at Korba.
A provision has been made for setting up of Aerocity near Raipur Airport for the purpose of promoting professional and commercial activities.