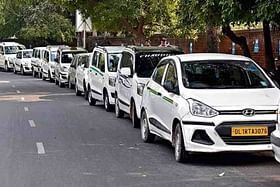 To give a push to the concept of 'Green Mobility for Clean Air', the Delhi government on Tuesday (20 June) extended the permit validity of taxis running on cleaner fuels such as compressed natural gas (CNG), or those powered by electricity — from 8 years to 15 years.
According to an order issued by Transport Secretary Ashish Kundra, the Contract Carriage (Delhi-NCR) Permit of the taxies plying on CNG or clean fuel "shall remain valid for 15 years subject to the fulfilment of all other prescribed conditions as stipulated in Motor Vehicle Act, 1988, CMVR, 1989, and DMVR, 1993".
Delhi Transport Minister Kailash Gahlot said the move will help "thousands of taxi drivers". "It is an initiative towards providing cleaner and greener modes of transportation while ensuring the welfare and convenience of taxi owners and operators in the city", he added.
Legal Battle
Officials familiar with the matter stated that the transport department had received a number of representations from various taxi union demanding to implement uniformity in respect of validity of the permits issued under Section 74 of the Motor Vehicles Act,1988, known as Contract Carriage Delhi NCR Permit.
Earlier, taxis registered under the City Taxi Scheme 2015 with DL1RT (commercial taxis which have a yellow number plate) had a permit validity of eight years.
However, all other taxis, including black and yellow cabs, enjoyed a validity of 15 years, corresponding to the vehicle's age as defined by the Motor Vehicle Act, 1988.
Some of these unions had even approached the Delhi High Court to seek the removal of disparity in respect to validity of permits. The Delhi high Court had directed the Transport Department to consider the grievances of the petitioner and pass necessary orders.
Flip-flops
Earlier, the permit used to be valid for 15 years for taxis running on cleaner fuels as well. However, in 2017, the government made an arbitrary decision to decrease the validity to five years. As a result of significant protests, the duration was subsequently extended to eight years in 2019 and has now been restored to the original 15-year period.
The move to extend the permits for the clean vehicle has been applauded by one and all.
The implementation of this measure will bring about a significant improvement in the lives of taxi owners who would have otherwise been compelled to sell their cabs and purchase new ones within the eight-year timeframe, even if the old vehicles were in compliance with environmental laws.
"The decision by the Delhi government to increase the operational limit for clean para transit vehicles is a positive step. However, it would have been even more beneficial if the increased limit applied exclusively to zero-emission vehicles such as electric vehicles," said Amit Bhatt, managing director (India), International Council of Clean Transport (ICCT).