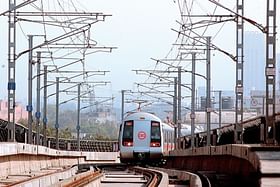 The proposed Rithala-Narela corridor of the Delhi Metro Rail Corporation (DMRC) may possibly be extended up to Kundli in Haryana, to provide additional connectivity to the neighbouring state.
If approved, this will be Delhi Metro's fourth expansion into Haryana after yellow line (Gurugram), violet line (Faridabad) and green line (Bahadurgarh).
This corridor is being planned as an extension of the presently operational Shaheed Sthal-Rithala red line corridor. In fact, this may be Delhi Metro's first-ever corridor to connect Haryana and Uttar Pradesh via Delhi.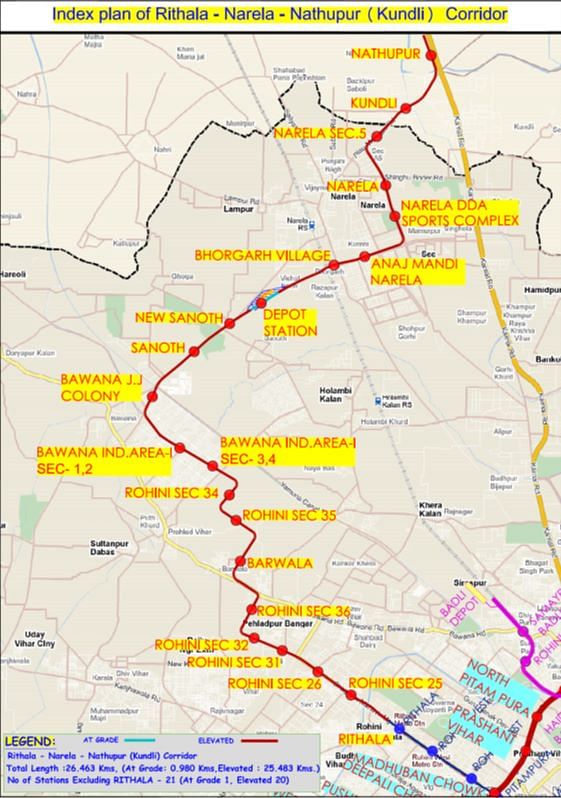 Initially, smaller stations with platform lengths accommodating four coach trains were proposed to meet the initial traffic demand, with a provision of future expansion to accommodate eight coach trains.
The proposed corridor shall be 27.319 km, comprising 22 stations. While 26.339 km will be elevated, about 0.89 km will be at grade. Of the 22 stations, 21 will be elevated and one will be at grade.
The proposed stations on this corridor are Rithala, Rohini Sector-25, Rohini Sector-26, Rohini Sector-31, Rohini Sector-32, Rohini Sector-36, Barwala, Rohini Sector-35, Rohini Sector-34, Bawana Industrial Area-1 Sector 3,4, Bawana Industrial Area-1 Sector 1,2, Bawana JJ Colony, Sanoth, New Sanoth, Depot Station, Bhorgarh village, Anaj Mandi Narela, Narela DDA Sports Complex, Narela, Narela Sector-5, Kundli and Nathpur.
The Delhi Development Authority has launched its housing schemes with more than 3,500 flats located in Narela.
This enhanced connectivity to these areas will immensely help the residents of these new residential colonies. In the past also, DMRC's expansion to Dwarka had boosted the connectivity to the sub-city.
The extension of the line would also connect this region with the already operational red line, which goes all the way up to Ghaziabad in Uttar Pradesh, covering important locations in central and east Delhi.
The revision of the route alignment including station planning for all the stations has been done. The topographical survey, traffic survey, environment impact assessment study for the extended portion from Narela to Kundli (5 km length) are in progress.
The revised detailed project report for the Rithala-Narela-Kundli corridor is expected to be submitted by the end of this month. The DPR after finalisation will be submitted to the government for consideration and approval.