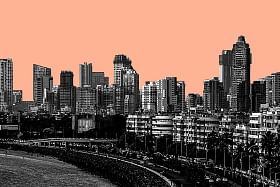 The Ministry of Housing and Urban Affairs is currently reviewing 26 proposals submitted by 21 states for the establishment of new cities.
This comes more than two years after the 15th Finance Commission suggested the allocation of Rs 8,000 crore towards the incubation of eight new cities. The commission's report for 2021-26 was presented in Parliament on 1 February 2021. It proposed the allocation of funds for the incubation of new cities through a challenge.
The evaluation of the proposals marks a significant step towards the potential creation of new cities in India.
Minister of State for Union Housing and Urban Affairs, Kaushal Kishore, informed the Rajya Sabha on Monday (27 March) that the ministry has established bid parameters and minimum eligibility criteria for the 26 proposals submitted by 21 states for the creation of new cities.
The deadline for bid submission was 20 January 2023.
"Considering the small urban population in the Northeast and hill States, Rs 1,000 crore for two new cities (Rs 500 crore each) for two different states has been proposed," the minister said in the reply.
"A state can have only one new city through this fund. Thus, maximum nine new cities in nine states can be selected," he added.
Proposals received for incubation of new cities include:
Ayodhya (Uttar Pradesh), Jagiroad (Assam), New MOPA Ayush City, Pernem (Goa), GIFT city expansion (Gujarat), Pakyong (Sikkim), Thirumazhisai (Tamil Nadu), Bantala Greenfield City, Karmadiganta (West Bengal), Jabalpur Extension (Madhya Pradesh), Virul (Maharashtra), and Aerocity (Kerala), New Ranchi City (Jharkhand), Mountain Township (Himachal Pradesh), Gurugram (Haryana), Kopparthay (Andhra Pradesh) and Gumin Nagar, Pasighat (Arunachal Pradesh), Bhubaneswar (Odisha), Aerotropolis (Punjab), GFC-Ranpur (Rajasthan), Nagaki Global City (Nagaland), YaithibiLokul (Manipur) and Doiwala (Uttarakhand).