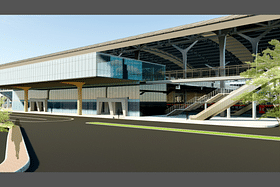 Continuing with its ambitious railway station redevelopment programme, Indian Railways will redevelop Faridabad Railway Station as a world-class station at an estimated cost of Rs 261.97 crore.
The Faridabad station of Haryana is a major station for most trains travelling to and from Delhi, and its redevelopment to be world-class will give rail passengers a comfortable travel experience.
According to the Northern Railway, the zone responsible for executing the project, major upgradation of the Faridabad station will provide high-quality facilities to railway passengers.
As per the plan, the Faridabad Railway Station will have two iconic station buildings with modern architecture on both sides, integrating and serving a portion of the city on the two sides of the station.
It will have segregation of departures and arrivals, like airports. The station will also have multi-level car parking (MLCP) on both sides, with a capacity for 250 four-wheelers and 350 two-wheelers.
A wide well-equipped concourse connecting both sides of the station buildings, having a spacious waiting area, waiting lounge, retiring rooms, food court, shopping facility, and other amenities will also be provided.
For ticket booking reservation and other passenger-related amenities, help desks will be provided for passenger convenience.
There will be lift and escalator facilities, which will make the station disabled-friendly.
Further, two 12-metre-wide foot over bridges (FOBs) will be constructed to ease traffic flow.
In order to provide seamless traffic, MLCPs, FOBs, and concourses will have interconnections for smooth movement. The station will provide integration with local transport also.
The station will have features of smart buildings as well as green buildings and provide world-class facilities, the Northern Railway says.
Presently, under the station redevelopment plan, the master plan, circulation plan, station building plan, including the north foot over bridge and MLCP, have already been approved.
Dismantling of railway quarters has already been completed, while shifting of offices from the present station building to temporarily built offices is under progress.