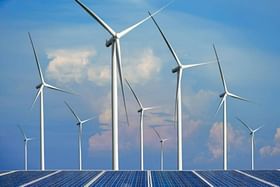 Karnataka and Gujarat are making the most progress in overall preparedness and commitment in the transition to clean electricity, a new joint report from the Institute for Energy Economics and Financial Analysis (IEEFA) and Ember shows.
The report analyses 16 Indian states, which together account for 90 per cent of the country's annual power requirement, across four dimensions.
The dimensions track a State's preparedness to shift away from fossil-fuel-based power, its ability to incentivise greener market participation, its power system's reliability and its policies pushing for power sector decarbonisation.
Based on this analysis, the report authors devised the States' Electricity Transition (SET) scoring system, which measures the performance of the different states in the transition to clean electricity.
Electricity Transition
The report defines electricity transition as the "shift from fossil-based power production and consumption to renewable energy sources by transforming the electricity sector through innovative policies, efficient technologies, and greener market pulls while ensuring reliable supply with effective closed-loop systems in place".
An effective clean electricity transition requires a timely switch towards a clean power-fueled, economically feasible, politically viable and secure system that can create value for business and society.
India has taken centre stage with its ambitious clean energy targets, supportive policies and regulations, political commitments, and impact-driven initiatives, says the study.
Key Findings
The figure below summarises where the states stand regarding their progress across different parameters and dimensions of this transition.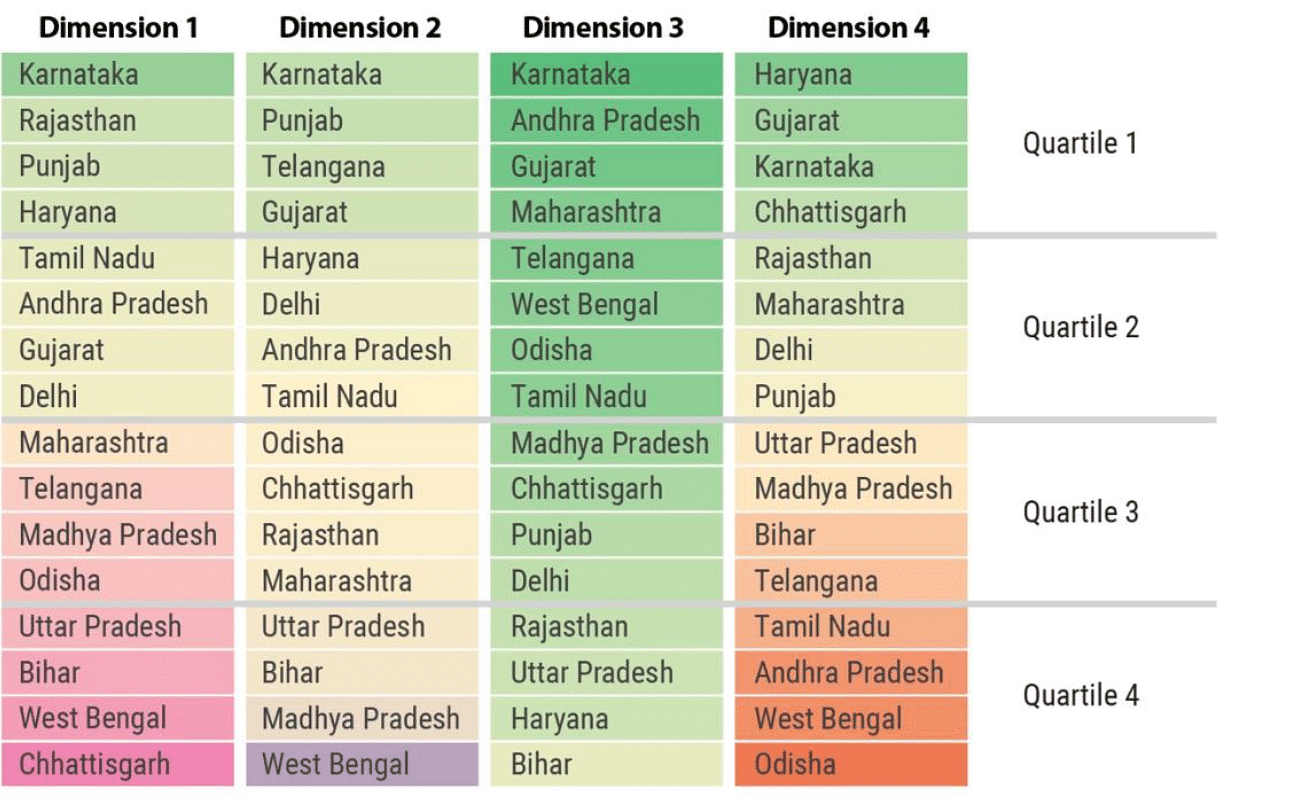 While Karnataka and Gujarat are the top performers, Haryana and Punjab are best positioned to further this transition.
The study says that Bihar, Uttar Pradesh, and West Bengal "must ramp up efforts to maximise their renewable energy generation potential and increase clean electricity transition commitments."
Rajasthan and Tamil Nadu have started their clean electricity transitions, but progress has not been consistent across all dimensions.
As the long-considered front-runners in building new renewable capacity, these two States, unsurprisingly, showed promising progress in decarbonising their power systems. Still, they fell short in their respective power sectors' relative performance and readiness to transition to clean electricity, the study says.
Karnataka
A number of factors have helped the state steal a march over other states, some of which are listed below
Karnataka has been an early adopter of renewable energy through proactive policies and has the highest share of renewables in its power supply mix (48 per cent). Interestingly, the state still has a large amount of untapped renewable energy potential, having installed just 11 per cent of its total potential.
Karnataka is also one of the few states which surpassed its renewable energy targets set for the end of 2022 (14.8GW).
First southern state in India to notify a renewable energy policy in 2009. Recently, the state released the Karnataka Renewable Energy Policy 2022-2027 to integrate more renewable energy into the grid
Able to supply electricity to meet almost all its power requirements in FY2022, with a shortage of just 9MUs against the total annual power requirement of 72,692MUs.
Gujarat
Gujarat, a state widely regarded as a renewable energy success story in India in recent years, is slowly catching up onto Karnataka.
Relatively lower fraction of renewable energy potential tapped in the state (10 per cent) combined with a considerable proportion of older coal power plants in its coal fleet (19 per cent) has lowered the state score.
Gujarat has fared the best in moving early on pilot projects related to battery storage capacity. The state currently has the most battery storage projects in the pipeline with these projects.
Phasing Out Coal
Significantly, both the states have announced that they will not build new coal power plants and also do not have any coal power plants currently under construction. G
Gujarat has about 0.85GW of new coal power projects in the pre-construction stages, and Karnataka has about 1.6GW.
While much of this pipeline in Gujarat is a state-sector undertaking to expand the Ukai thermal power plant, in Karnataka, it is a private-sector undertaking to develop the Udupi power station.