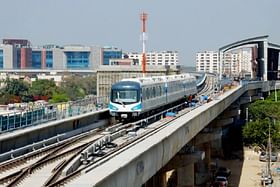 The detailed project report for the proposed Metro rail from Vatika Chowk to Pachgaon in Gurugram, will be prepared by the RITES, announced Haryana Mass Rapid Transport Corporation (HMRTC) chairman Sanjeev Kaushal.
The chief secretary was speaking during the 53rd meeting of the board of directors of HMRTC in Chandigarh on Monday (24 July), and termed it as a major step towards enhancing public transportation infrastructure.
During the meeting, Kaushal informed the board members that Rail India Technical and Economic Service (RITES) had been designated as the consultant for the Metro line from Vatika Chowk to Pachgaon.
He also said that the length of the corridor will be 30 km.
Notably, RITES is also conducting the techno-feasibility study for the proposed Metro extension from Ballabhgarh to Palwal in Faridabad, covering a distance of approximately 25 km.
Three Metro Links
The Metro line from Vatika Chowk on Sohna Road to Pachgaon in Manesar is one of the three Metro links in Gurugram, that will be taken up for work in the ongoing fiscal.
Chief Minister Manohar Lal Khattar while presenting the state budget for 2023-24 had announced that work on three metro links — Rezangla chowk to the Indira Gandhi International Airport in Delhi, Southern Peripheral Road through Global City to Pachgaon in Manesar, and extension of Bahadurgarh Metro up to Asaudha to connect with the Haryana Orbital Rail Network and Kundli-Manesar-Palwal (KMP) Expressway — will be taken up in 2023-2024.
HUDA City Centre To Cyber City Metro
Earlier in June 2023, the union cabinet approved the extension of the Metro network from HUDA City Centre to Cyber City in Gurgaon, a stretch of 28.5 km, with 27 new stations to be built over the next four years at an estimated cost of Rs 5,452.7 crore.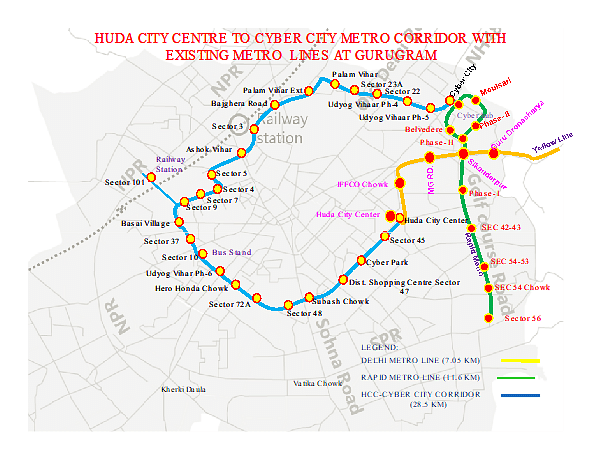 The main corridor, from HUDA City Centre to Cyber City, would be 26.65 km in length with 26 stations, while 1.85-km spur with one station will connect Basai Village to Dwarka Expressway.
To be implemented by the HMRTCL, the project is proposed to be completed in four years from the date of sanction.
The metro line aims to connect Old Gurgaon with New Gurgaon, along with a link to the Indian Railways. The next phase will connect the network with Delhi's Indira Gandhi International Airport.