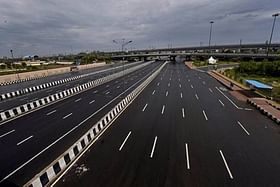 The 135 km section of Khowai-Teliamura-Harina highway is being considered for improvement and widening into two lanes with paved shoulder of National Highway 208 in Tripura.
The roadways project in Tripura was recommended during the 49th Network Planning Group (NPG) meeting of PM GatiShakti National Master Plan (NMP).
Chaired by Special Secretary Ministry of Commerce and Industry Sumita Dawra, the NPG meeting was held in Delhi on Thursday.
The brownfield project, at an estimated cost of Rs 2,486 crore, is planned with a multimodal connectivity approach; connectivity to industrial clusters and new SEZ namely Paschim Jalefa; efficient freight movement; reducing carbon footprint; optimised alignment and logistical efficiency.
The road passes through Khowai, Gomati and South Tripura districts connecting places like Khowai, Teliamura, Twidu, Amarpur, Karbook and Harina.
It will not only enhance interstate connectivity between Assam and Tripura but also give a boost to the economic and industrial activities in the state.
The planning of the project on NMP yielded benefits such as enhancing logistics efficiency, reducing road length by 28 km from 162 km to 134 km, thus cutting travel time by two and half hours.
Enhanced multi-modal connectivity: This project corridor facilitates intermodal transport from Teliamura Railway Station and Manu Bazar Railway Station near Harina.
The proposed road will improve connectivity to the airport at Agartala and proposed multi-modal logistics park (MMLP) at Udaipur.
Regional connectivity: This corridor is very close to the Bangladesh border and it would connect Bangladesh through Kailashahar, Kamalpur and Khowai Border Check Post.
Connectivity to economic and social nodes: The road will boost connectivity to four economic nodes such as industrial cluster around Agartala, FCI depot, etc, and 13 social nodes such as Matabari Temple, Neer Mahal, Pilak Civilization Museum, Jampui Hills, Ambassa Eco Park, etc, facilitates freight movement from Kolkata to north eastern states (majorly, Tripura, Mizoram and Manipur) to Bangladesh.
Boost to industry and exports promotion: the project would facilitate movement of raw materials for industry clusters in Tripura.
It will facilitate movement of manufactured goods like rubber, textile, bamboo, food processing, etc, from economic nodes like SEZ located at Paschim Jalefa, Sabroom in South Tripura district and industrial clusters/parks around Agartala and Udaipur.
The proposed road will connect North East India to Chittagong Port in Bangladesh. This would ensure EXIM connectivity.
Development in tribal area: the project enhances connectivity to three tribal districts — Khowai, Gomati, South Tripura districts.
The project is on engineering, procurement and construction basis under Japan International Cooperation Agency's official development assistance loan.
The principles of PM GatiShakti NMP have been adopted during the planning of the road alignment. Alignment of the road is superimposed with data layers available on NMP portal like railway lines, forest, power lines, water bodies etc.
The intersections will be seen with forest and other sensitive zones to minimise environmental disruptions.
Institutional mechanism of PM GatiShakti facilitated inter-ministerial consultations through NPG meeting for integrated planning and decision making.
The 49th NPG meeting saw representation from infrastructure ministries/departments including ministries of Road Transport and Highways, Railways, Ports, Shipping and Waterways, Civil Aviation, Power, Petroleum and Natural Gas, Department of Telecommunication, New and Renewable Energy and NITI Aayog, and from Tripura state government, to discuss on the various aspects of the project.