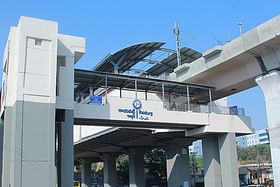 Telangana government allotted Rs 2,500 crore for the Hyderabad Metro Rail project which includes extending metro services to the old city and the airport.
Hyderabad Metro Rail has been given Rs 1,500 crore in the State Assembly Budget for 2023-24. In addition, the government has set aside Rs 500 crore for the extension of Metro Rail services to the old city and metro connectivity to Rajiv Gandhi International Airport in Shamshabad.
Telangana Chief Minister K Chandrashekhar Rao laid the foundation stone for a 31 km long airport metro rail corridor in Hyderabad on 9 December. This metro rail line will connect the IT hub in the western Hyderabad and the airport located in southern Hyderabad.
To be known as 'Airport Express Metro,' this project is estimated to cost Rs 6,250 crore. It is a Telangana state government funded project. According to the state urban development minister KT Rama Rao, this metro rail project will be completed in three years.
This new metro rail corridor will start at Mindspace junction and end at the city's international airport located at Shamshabad after traversing along the Outer Ring Road (ORR) of the city.
The state government has already formed a Special Purpose Vehicle — Hyderabad Airport Metro Limited (HAML) in order to carry out the development, construction, operations and the overall management of the metro line.
The metro is expected to take just 20 minutes to connect the airport to the main city. Bio-Diversity junction, Nanakramguda, Narsingi, TS Police Academy, Rajendranagar, Shamshabad, Airport Cargo station and terminal are expected to be a few of the stations.
Hyderabad's Metro Rail Expansion
Telangana state government has taken up the Hyderabad metro rail expansion plans.
While it has taken up the metro rail corridor to connect the airport as an entirely state government funded project, it has asked the union government to fund its proposal for a 26 km long metro rail corridor from BHEL to Lakdikapul.
In a letter to Union Minister for Urban Affairs Hardeep Sngh Puri, Telangana's Municipal Administration and Urban Development (MA&UD) Minister KT Rama Rao asked for inclusion of Hyderabad metro's phase-2 expansion in Union Budget 2023-24.
Phase-2 covers 31 km of expansion with two components. Major part of it is a 26 km long corridor with 23 stations from BHEL in north-western Hyderabad to Lakdikapul in central part of the city. Other components include a five km connecting link with four stations from Nagole to LB Nagar.
If taken up, this phase-2 expansion provides more metro rail connectivity in the rapidly developing western part of the city.
The BHEL-Lakdikapul corridor is expected to pass through Madinaguda, Kondapur, Hitec city, Raidurg, Mehdipatnam, Tolichowki and Masab tank areas.
At present, Hyderabad's metro rail network spans over 69 km with three corridors criss-crossing the main city. It was developed by L&T Metro Rail Hyderabad (L&TMRH).
While LB Nagar to Miyapur and Nagole to Raidurg corridors have been completed, Jubilee Bus Station (JBS) to Falaknuma is yet to be completed. On the third corridor, connectivity has been provided from JBS to Mahatma Gandhi Bus Station (MGBS) also called Imlibun, reports Economic Times.