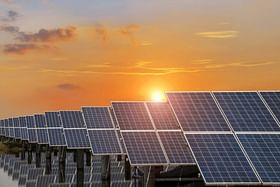 The report finds that India's cumulative module manufacturing nameplate capacity has more than doubled — from 18 GW in March 2022 to 38 GW in March 2023.
India will soon become self-sufficient in solar photovoltaic (PV) module, says a new study indicating it could become a viable alternative to Chinese modules that dominate the global market.
The report, published jointly Tuesday (4 April) by Institute for Energy Economics and Financial Analysis (IEEFA), a US-based think tank, and JMK Research, a Gurgaon-based research and analysis firm, says India's "nameplate" manufacturing capacity for solar PV modules will likely cross the 110 gigawatt (GW) by FY 2026, when the country would attain self-sufficiency for its solar PV module demand.
"Nameplate" is the maximum production capacity of a facility.
The report finds that India's cumulative module manufacturing nameplate capacity has more than doubled from 18 GW in March 2022 to 38 GW in March 2023.
PLI Boost
According to the report, the central government's production-linked incentive scheme (PLI) encouraging domestic manufacturing of "high efficiency" solar PV modules "is one of the primary catalysts spurring the growth of the entire PV manufacturing ecosystem in India".
The Ministry of New and Renewable Energy (MNRE) announced last week it had allocated a capacity of 48,337 megawatts (MW) of domestic solar PV modules manufacturing capacity across two tranches of its PLI scheme, with a total support of more than Rs 18,500 crore.
Top Players
According to the report, the coastal state of Gujarat alone accounts for nearly 57 per cent of all the forthcoming PV manufacturing capacity.
"Some major reasons manufacturers chose Gujarat for setting up their PV fabrication facilities (fabs) include cheaper industrial electricity prices and easy access to ports for imports and exports. Further, the base of some of the largest Indian PV manufacturers, such as Adani and Waaree, is already in Gujarat," the report added.
Further, at least 23 companies have proposed setting up GW-scale new module manufacturing capacities in the country.
Based on the proposed capacity addition size, Reliance New Energy Solar (Reliance), Adani Solar (Adani), ReNew, Tata Power Solar (Tata) and Grew Energy (a subsidiary of Chiripal group, a Gujarat-based textile company) are the top five manufacturers.
According to the report, the top five manufacturers will add almost 30 GW of new module capacity in India by 2026.
Roadblocks
The report identifies major challenges, which are still hampering the growth of the domestic PV manufacturing industry from realising its full growth potential.
The biggest challenge is sustained reliance on Chinese import for upstream components of PV modules such as polysilicon and ingots/wafers — almost all (around 95 per cent) of the upstream PV manufacturing capabilities, are still in China.
"With the Chinese government mulling restrictions on the outflow of the critical technology used in the manufacture of these upstream components, it is imperative for countries targeting integrated PV manufacturing at scale to identify alternate sources of supply for these raw materials," the report added.
There is a dearth of skilled professionals with experienced know-how in installing, commissioning and operating a solar manufacturing facility, especially for upstream components, such as cells, wafers, polysilicon, said the report.
The report also mentions that although the quality of all tier-1 Indian manufacturers is comparable to global standards, the manufacturers have complained that the domestic consumer base is largely hesitant towards Indian PV products.
The report's co-author Vibhuti Garg, Director, South Asia, IEEFA, said that after India attains self-sufficiency in two to three years, the next course of action should be to challenge and compete for dominance in both quality and scale in the global PV module market.
Despite the aggressive market drivers, there are minor hurdles that are impeding the growth of the PV manufacturing industry. Therefore, policy stability is necessary to sustain investor confidence in the market, she added.