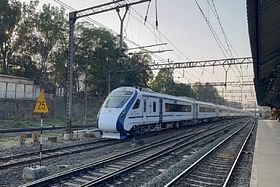 Four busy routes including Lucknow-Prayagraj, Delhi-Chandigarh, Chennai-Tirunelveli and Gwalior-Bhopal have been selected for running Vande Bharat trains shortly.
All these Vande Bharat trains will have eight-coach each and with composition of one executive class and seven chair cars, with an overall seating capacity of 556 passengers.
Currently, 25 Vande Bharat trains with 50 services are operational across the country, out of which nine are having eight-coach composition.
With the upcoming four more Vande Bharat Express, there will be total 29 semi-high speed trains with 58 services in the Indian rail network.
According to the Indian Railways, Vande Bharat trains are now operational in all states having electrified routes.
Two Vande Bharat trains were pressed into service on 7 July from Gorakhpur and Jodhpur for Lucknow and Sabarmati, respectively.
In Uttar Pradesh, the first Vande Bharat train was launched in 2019 followed by another on 7 July this year on the Gorakhpur-Lucknow route. Now there is a plan to connect Lucknow with Prayagraj with Vande Bharat service.
As far as Chandigarh route is concerned, there is a high demand for Delhi-Chandigarh service though there are several trains, including Shatabdi Express, available on the route.
Earlier, there was a plan for running Vande Bharat train on either Chennai-Tirupati or Chennai-Vijaywada route. However, now it has been decided to run Vande Bharat train on Chennai-Tirunelveli route.
Since there is a demand for Vande Bharat Express for Gwalior, the Railways decided to provide the service in Bhopal-Gwalior sector.
While there are three Vande Bharat trains operational connecting Bhopal to Delhi, Jabalpur and Indore, the fourth one will be for Gwalior.
The Integral Coach Factory in Chennai has ramped up production of Vande Bharat trains as the target is to make operational 75 Vande Bharat services operational by 15 August this year.
The semi-high speed train is equipped with modern facilities and state-of-the-art safety equipment such as Kavach to prevent head-on collision.