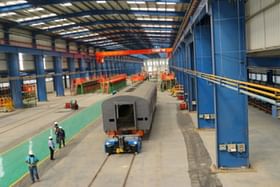 The Marathwada Rail Coach Factory at Latur in Maharashtra is being prepared to commence manufacturing of 120 Vande Bharat trains this year.
The Russian company TMH, which has emerged as the lowest bidder in the 200 Vande Bharat project, is expected to build 120 Vande Bharat trains with AC Sleeper coaches, after getting the formal job order from the Railways.
Built by Rail Vikas Nigam Limited (RVNL), the Latur factory has come up at an estimated cost of Rs 626.38 crore in 413 acres of land.
Equipped with a shell shop, furnishing shop, paint shop, bogie shop, test shop, store ward, administrative building, security building, canteen and main electric substation, the production unit is nearing completion to commence the work after commissioning of the facility.
According to the Railways, the formal contract order will be issued to the lowest bidder for manufacturing 120 Vande Bharat trains at Latur and the second lowest bidder would be given the order for remaining 80 Vande Bharat trains at ICF Chennai.
Racing against Alstom, Siemens and Medha-Stradler, the Russian company along with RVNL, became the lowest bidder in the nearly Rs 50,000 project for manufacturing 200 Vande Bharat trains.
"Currently the documents of lowest and second lowest bidders are being scrutinised. The contract order would be issued after the scrutiny of the documents," the Railways maintains.
Latur factory with the state-of-the-art machinery would be made operational shortly to roll out Vande Bharat trains, as the Railways is planning to ramp up the semi-high speed trains to be pressed into service across the country.
As per the Railways plan, there would be a total of 900 Vande Bharat trains manufactured in the next five years.
While 75 Vande Bharat trains would be having seating arrangement, rest would be equipped with sleeper facilities. All Rajdhani and Shatabdi routes will have Vande Bharat trains to reduce travel time.
Till now 10 Vande Bharat trains are operational in the country and there is an increasing demand from all zones for this train.