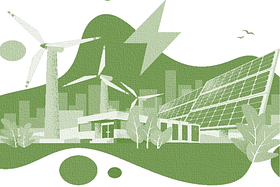 PNG availability and subsequent increase in its cost is a major concern.
Some of the industries using PNG are already worried as they are supplied only 70-80 per cent of the contracted fuel, owing to the ongoing global crisis.
Industries in Delhi-NCR are beginning to move towards using cleaner fuels – finds a new assessment done by Centre for Science and Environment (CSE) studying two major industrial areas in the region in Alwar district of Rajasthan.
The welcome shift follows a Commission for Air Quality Management (CAQM) order for industries in Delhi-NCR to shift towards cleaner fuels such as PNG, biomass etc.
The study has surveyed and analysed the pattern of fuel shift, changes and tentative costs required for making this shift, challenges faced by industries for shifting towards cleaner fuels and the strategies they adopt to combat them.
CSE has done an in-depth assessment of two industrial areas namely – the Matsya Industrial Area (MIA) and Bhiwadi in Alwar.
The CAQM had issued the order in June 2022, under which industries had been given a deadline till 30 September 2022, in cases where a PNG pipeline is already available, and a deadline of 31 December 2022 for industrial clusters without a pipeline in place.
Out of the two regions studied, industries in Bhiwadi are shifting towards PNG as the area already has a pipeline; industries in MIA are opting for biomass because the area does not have a PNG pipeline network.
According to the Rajasthan State Pollution Control Board, almost all industries in Alwar and Bhiwadi have moved to CAQM-approved fuels.
Exceptions include a few industries which are using wood charcoal (permitted only for cloth ironing in NCR) and a metal-working industry that is reportedly using coal.
Nivit Kumar Yadav, programme director, industrial pollution CSE, says "Though these industries are changing their fuels, a few significant points need to be kept in mind to make cleaner fuel usage a sustainable option — these include the issue of PNG availability, its soaring prices and the challenge of meeting new PM emission norms using biomass as a fuel".
Findings Of The Study
Significant shift towards cleaner fuels by industries in Alwar after the CAQM order – PNG and biomass are the two major cleaner fuels used widely by industries in the NCR.
Since these two fuels were widely used in the industries of Alwar, the district was chosen as the study area.
The fuel shift pattern varied according to the availability of the fuel – in Bhiwadi, PNG was the fuel of choice since the area had a PNG pipeline. In Matsya Industrial Area; which is awaiting a pipeline, industries have moved to agro-residue or biomass.
PNG is expensive while biomass is most affordable in terms of both capex and opex. Most of the industries surveyed in Bhiwadi spent not less than Rs 1 crore for the transition to PNG.
On the other hand, shifting to biomass meant an almost zero to less than Rs 5 lakh cost, with biomass available for as low as Rs 5 per kg.
PNG availability and subsequent increase in its cost is a major concern. Some of the industries using PNG are already worried as they are provided only 70-80 per cent of the contracted PNG because of the ongoing global crisis.
"Some industries are also demonstrating a willingness to shift part of their production outside Delhi-NCR to continue operations with cheaper conventional fuels," says Yadav.
What Is The Way Forward?
Ensure consistent PNG supply – Industries that have a PNG connection are getting only 70-80 per cent of the contracted supply, while Industries that have applied for a connection in 2022 have not yet got it. A continuous supply needs to be ensured.
Bring PNG under GST – With industries getting only 70-80 per cent of the contracted PNG, the remaining 20-30 per cent is being sold to industries at a special price mechanism known as 'spot price' – this is approximately four times higher than the contracted PNG price.
This makes the fuel economically unviable, particularly for small and medium scale industries in Alwar.
"To lower the PNG prices in NCR, one of the essential measures that needs to be taken is bringing PNG under GST to save it from the multiple layers of state taxation it has to go through before it reaches the industries," says Parth Kumar, programme manager, industrial pollution, CSE.