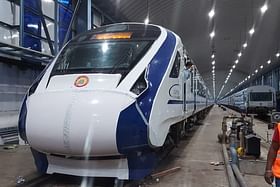 The French rolling stock major Alstom, has been called by the Indian Railways for negotiation to reduce the bidding price of Rs 150.9 crore quoted for the manufacturing of 100 aluminium-bodied Vande Bharat trains.
Alstom emerged as the lowest bidder for the Rs 36,000 crore tender for the manufacturing and maintenance of 100 light weight Vande Bharat trains with sleeper coaches and an operational speed of 200 kmph.
The French firm has to offer a negotiated price to the tender committee formed by the Railways to finalise the bids, it is learnt.
The financial bids were opened on 31 May this year as there were only two major rolling stock giants — Alstom and Medha, who were in the race for manufacturing 100 lightweight Vande Bharat trains.
Both were technically qualified and Alstom emerged as the lowest bidder after the finance bid was opened on 30 May.
While Alstom has quoted Rs 150.9 crore for making one aluminium-bodied Vande Bharat with sleeper facility and became the lowest bidder, Medha quoted Rs 169 crore and lost out to the former.
Trains are to be manufactured at the Railways' facility at Sonepat in Haryana. With the provision of 35 years of maintenance, the order is estimated to cost Rs 36,200 crore without tax and price variation clause.
According to the Railways, it would be India's first train made of aluminium.